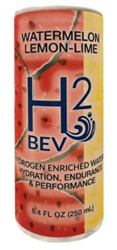 NEW YORK (PRWEB) June 27, 2018
Hydrogen is the most abundant element in the universe. Glutamine is the most abundant amino acid in the body. H2Bev brings them together in a flavorful drink designed to increase workout recovery, boost hydration, and protect cells from damaging oxidants. *
H2Bev Watermelon Lemon Lime is a blend of molecular hydrogen (H2), carbon dioxide (CO2), and Sustamine® L-Alanyl-L-Glutamine. More than 30 human studies show H2 is a unique antioxidant that targets the hydroxyl free radical, known as OH. When molecular hydrogen attaches to OH – one of the most toxic free radicals – and converts it to H2O – water. The formulation also contain Kyowa Quality's L-Citrulline, an amino acid that plays an important role in nitric oxide metabolism and regulation.*
Sustamine® works in concert with H2 in H2Bev's beverages to support muscle recovery, increase cell hydration, and bolster the body's immune system. Sustamine® combines L-Glutamine (the most important amino acid for stimulating muscle protein synthesis) and L-Arginine (an amino acid needed for rebuilding your body's glycogen stores). *
H2Bev's Watermelon Lemon Lime comes in 8.4-ounce cans and is available only at https://h2bev.com/product/newwatermelon-lemon-lime-free-shipping-copy/.
About H2Bev
H2 Beverages Inc., is a company built on years of R&D, who strives to bring unique Hydrogen infused beverages to market. We have developed proprietary processes, formulations and filling operations all in Plano, TX. These proprietary processes have allowed us the ability to stabilize Hydrogen and create several unique drinks. Through science and research H2 Beverages brings the possible to impossible.
For more information, visit https://h2bev.com/.
About Sustamine
Sustamine® L-Alanyl-L-Glutamine is a stable dipeptide of L-Alanine and L-Glutamine. Sustamine is more easily absorbed by the body than complex protein molecules. This makes Sustamine a highly effective ingredient for hydration, endurance and recovery. * Vegetarian, allergen-free and the only GRAS L-Alanyl-L-Glutamine, Sustamine is also tasteless, odorless, and stable in liquids.
Sustamine is an ingredient that works on multiple levels to help rehydrate the body and sustain energy levels during exertion. Sustamine combines L-Glutamine (the most important amino acid for stimulating muscle protein synthesis) and L-Arginine (an amino acid needed for rebuilding your body's glycogen stores).
For more information on Sustamine, visit: http://www.sustamine.com.
About Kyowa Hakko USA
Kyowa Hakko USA is the North American sales office for Kyowa Hakko Bio Co. Ltd., an international health ingredients manufacturer and world leader in the development, manufacturing and marketing of pharmaceuticals, nutraceuticals and food products. Kyowa is the maker of branded ingredients including Cognizin® Citicoline, Pantesin® Pantethine, Setria® Glutathione, as well as Sustamine® L-Alanyl-L-Glutamine. For more information, visit http://www.kyowa-usa.com.
*These statements have not been evaluated by the Food and Drug Administration. This product is not intended to diagnose, treat, cure, or prevent any disease.
# # #