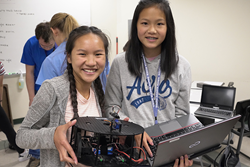 Diversity of ideas and of individuals is essential in creating a strong community of experts in cybersecurity.
RAPID CITY, S.D. (PRWEB) June 27, 2018
An all-girl cybersecurity summer camp at the South Dakota School of Mines & Technology is free to accepted participants, thanks to a grant from the National Security Agency (NSA) GenCyber program. The NSA GenCyber program helps direct a diverse group of young people toward cybersecurity careers that are critical to national and economic security.
The SD Mines GenCyber camp takes place June 25-29, with 30 high school girls in grades 8-11 attending. Sessions focus on core principles and practices of cybersecurity, robotics and programming. Students also have the option of studying wireless security, advanced robotics, the internet of things, white hat hacking, unmanned aerial vehicles, 3D printing and careers in cybersecurity.
Media interested in interviewing camp organizers can come see students working on robots between 2:45 and 3:45 p.m. Thursday, June 28, in rooms 106 and 116 of the Classroom Building on the SD Mines campus. Phone interviews are also available.
GenCyber Girls Camp director Kelly Corwin is an instructor of math and computer science at Mines. "In today's world, it is the responsibility of all technology consumers to protect their own privacy and safety, and the GenCyber camp gives students the knowledge and tools to help protect themselves throughout their entire lives," says Corwin. "Furthermore, diversity of ideas and of individuals is essential in creating a strong community of experts in cybersecurity, and the GenCyber camp introduces cybersecurity concepts and career paths to students who may otherwise miss these great opportunities."
Building a strong workforce of information technology and cybersecurity experts is not only crucial for the nation, these job skills have also been identified as one of the five industry sectors with the highest potential in rural American states like South Dakota.
The camp includes support from industry partners who have donated resources and are involved in enhancing the curriculum alongside professors in Mines' Department of Mathematics and Computer Science.
Those interested in more information on the camp can check the website.