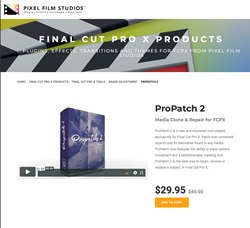 "New and improved media repairing tools have now been combined with motion tracking technology to make ProPatch 2 the perfect choice for touching up FCPX projects!"
ALISO VIEJO, Calif. (PRWEB) June 29, 2018
ProPatch 2 is a new and improved tool created exclusively for Final Cut Pro X. Patch over unwanted objects and fix blemishes found in any media. ProPatch now features the ability to track camera movement and a keyframe-able masking tool. ProPatch 2 is the best way to repair, remove or replace a subject in Final Cut Pro X.
To use ProPatch 2, first find a spot that needs to be replaced and the spot that will be placed over it. Track the spot that will be replaced and mask it out. Then, just track the spot that will be used to mask over the replaced area. Soften the edges of the mask and color correct the pasted layer to finalize.
ProPatch 2 is the perfect tool for removing minor blemishes and small details from a scene. Remove unwanted facial details, create horrifying images by swapping facial features, or simple remove a subject from a scene entirely. The possibilities are endless with ProPatch 2 from Pixel Film Studios.
Once tracked and masked, adjusting the patch tool is easy. Utilize the included on-screen controls to position, scale and rotate the patch anywhere within the scene. These tools can be used in a variety of ways like offsetting a subject to create extra room in the viewer for text and graphics.
ProPatch 2 is no longer limited to use with still-cam tripod shots. Thanks to the built-in-tracking, ProPatch 2 can now be used in shots with dynamic camera movement. Also included is the updated masking tool. PFSMask is better and faster than ever with improved functionality. Users can even keyframe masks.
Established in 2006, Aliso Viejo, California-based Pixel Film Studios is an innovative developer of visual effects tools for the post-production and broadcast community. Their products are integrated with popular non-linear editing and compositing products from Apple FCPX. Apple, the Apple logo, Mac OS X, and Macintosh are registered trademarks of Apple Inc. in the U.S. and/or other countries. All other trademarks and trade names are the property of their respective owners.