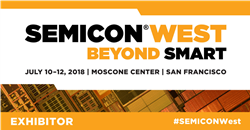 GRAND ISLAND, N.Y. (PRWEB) July 02, 2018
NRD, LLC will showcase its latest alpha technology and products for all semiconductor static solutions at SEMICON West 2018—July 10-12, 2018 at Moscone Center in San Francisco, CA. The conference provides insights, access, and technical and business intelligence needed to get ahead in today's disruptive, fast-changing business environment.
Today, NRD continues their nearly 50-year legacy of exceeding the demands for safe and effective ionization solutions worldwide for both corona and alpha products. While corona is considered by many as the standard, alpha is becoming the preferred static elimination solution for many organizations. Organizations appreciate the flexibility, reliability, lack of maintenance and ability for alpha to perform in environments where corona is not an option.
Alpha ionization uses Polonium-210, a naturally occurring radioisotope found in the soil, plants, vegetables, etc. Alpha particles collide with surrounding air molecules, creating pairs of positive and negative ions. And since only airflow is used to move the ions, no external energy source is required. Unlike Corona, alpha ionization is not limited to a single point, so it is a very effective and predictable method of ionization. Static charges are neutralized right at the source, with the ionization process remaining in constant balance.
Some applications for Alpha include: temperature extremes (-40°C to 180°C); areas with tight confines, like a handler; Class 0, highly static sensitive parts; and in fields of high technology, electronics manufacturing and testing.
NRD will be available at booth #6258 in the North Hall to discuss attendees' specific needs and how NRD can tailor a solution along with displaying alpha products that are ideal for the semiconductor industry; including their Ionizing Cartridges (1U400 and 2U500), Linear Alpha Ionizing Bar (P-2001), and Mini Spot Ionizers (P-2042).
About NRD
For almost 50 years, NRD has been a global supplier of devices that eliminate electrostatic discharge in environments such as R&D, laboratory, technology, industrial applications, and automotive, as well as specialty sources for ECD, IMS, and more. They service each industry and static concern uniquely with a customer-first approach and are the only company in the world that offers both alpha and corona static control solutions.
For more information about NRD, visit https://www.nrdstaticcontrol.com/
About SEMI
SEMI is the global industry association serving the manufacturing supply chain for the electronics industry, including: semiconductors, Flexible, Hybrid and Printed Electronics, Micro-Electro Mechanical Systems (MEMS), sensors, High-Brightness LED, Photovoltaics (PV), Flat Panel Display (FPD), Related micro- and nano-electronics.
SEMI facilitates the development and growth of our industries and manufacturing regions by organizing regional trade events (expositions), trade missions, and conferences; by engaging local and national governments and policy makers; through fostering collaboration; by conducting industry research and reporting market data; and by supporting other initiatives that encourage investment, trade, and technology innovation.
For more information about SEMI, visit: http://www.semi.org/en/
For more information about SEMICON West, visit: http://www.semiconwest.org