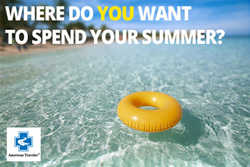 Anywhere with a beach, say over half of RNs surveyed.
BOCA RATON, Fla. (PRWEB) June 28, 2018
When it comes to summer travel choices, are nurses any different than non-healthcare professionals? Well, maybe. Many healthcare professionals have made the career choice to become 'travelers,' taking short-term assignments at medical facilities across the country. A travel nurse or technician has the opportunity to explore all corners of the U.S. and to change locale with the season.
American Traveler recently surveyed nurses, technicians and allied health professionals to discover their top preferences for summer travel. After all, these individuals have the option to follow through on their travel dreams, living and working in their choice of medical facilities. Turns out healthcare providers -- like most of us -- want to spend their summer in three types of locations:

52%: Beachy ocean destinations: Hawaii, California, Florida, North Carolina, South Carolina
18%: Mountainous western locations: Nevada, Oregon, Colorado, Arizona, Washington, Alaska
9%: New England and midwestern states with cooler summers: Massachusetts, New York, Wisconsin, and Michigan
Fantasizing about a travel nursing job near a beachside getaway was a recurring theme, with many respondents saying they just wanted to relax and listen to the ocean waves; some wanted to bring family along, and some wanted a quiet beach chair and a book. Some nurses longed for more challenging recreation, mentioning mountain hikes in rugged western destinations. New England also held a special appeal for those who relish a summer sail or a rustic campground.
As a thank you for taking the survey, American Traveler rewarded three respondents with a $250 gift certificate for airline travel, a gift card for nurse-friendly Dansko footwear, and an Amazon gift card.
About American Traveler
American Traveler is a healthcare staffing agency and workforce management solutions company. The agency staffs nursing and allied health professionals at more than 4,500 hospitals nationwide including over 80% of the largest hospital systems in the United States. American Traveler is GSA-approved and a preferred staffing source for temporary and permanent registered nurses, technicians, occupational therapists and physical therapists. The company has continuously demonstrated the quality of its healthcare staffing services by earning the Joint Commission's prestigious Gold Seal of Approval since 2005.