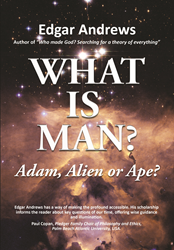 What is Man? The poet Alexander Pope proposed that Man is "the glory, jest and riddle of the world." But that's a restatement of the question rather than an answer to it. The purpose of this book is to find answers…
(PRWEB) July 23, 2018
Three thousand years ago, the Bible raised the simple question—What is Man? Since then, many intellectuals have come forward with their own take on it. Most of these have been found wanting, though some headway has been made in clarifying this fundamental question of our times. Outside the specialized field of debate, however, there has been a reluctance to engage in further discussion of the subject, which is strange considering the sustained interest in the origin of man. Complicating the standoff is the fact that many are actually apprehensive of discovering the truth about our origin, arguing that some questions are better left unanswered.
Nevertheless, the topic of this book is among the most crucial ones we must address. Historically, the proffered answers have resulted in disparate systems of thought, systems that have deep implications for the way societies conduct their affairs, for our personal character, and for the kind of life we live.
In this book, Dr. Andrews lays out the larger perspective of narratives, both ancient and modern, concerning man's place in the universe, the animal kingdom and the Bible. Showcasing candor, clarity and discernment, the author guides his audience through conflicting concepts and beliefs, before presenting his own answer to this deeply elusive topic.
Skeptics and believers alike will find reason to appreciate the author's firm grasp of the scientific and theological issues involved. To provide balance, What is Man? Adam, Alien or Ape? carefully examines non- Christian perspectives before proceeding to discuss the merits of the biblical viewpoint.
The author steers readers through complex issues by breaking down technical concepts into smaller, reader-friendly discussions, covering the origin, significance and destiny of the human race. Along the way, he spices things up with witty commentary on major secularist interpretations.
To summarize, the author succeeds in blending reason, fun, and persuasive arguments into an eloquent exposition of the biblical outlook, while questioning the validity of both atheistic and evolutionary points of view. This intelligent, thoughtful, yet remarkably accessible and often humorous book will serve as an outstanding resource for anyone of any faith, and a timely take on those fundamental issues that impact the very essence of our existence.
Title: What is Man? Adam, Alien or Ape?
Author: Edgar Andrews
Genre: Religious, Philosophical
ISBNs: 978-1-595556844 (Paperback), 978-1-595558466 (Hardbound), 978-1-595543035 (eBook)
Pages: 327
Publisher: Elm Hill, a division of HarperCollins Christian Publishing, Inc.