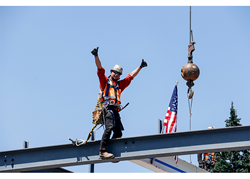 This state-of-the-art facility will meet our needs of safety and efficiency
ENGLEWOOD, Colo. (PRWEB) June 27, 2018
To the construction industry, topping out ceremonies are symbolic and bring project stakeholders together to celebrate the project. This was the case for the community of Englewood as individuals celebrated the new Police Headquarters being built, which is now about 40% completed.
The City of Englewood, represented by Owner's Representative CBRE, has been using the Public Safety Services Complex built in 1972. The existing facility lacks appropriate security design, needs significant facility repairs and does not comply with ADA regulations or police facility standards. In 2016, the community passed a bond to build a new police and safety services building.
The A/E Design Firm DLR Group defined the programming for the new Headquarters Project to best address the needs of the police department going forward.
The new 44,900-sf City of Englewood Police Headquarters will provide modern and secure facility needs, and more than double their current facility space. The new facility is being built only 5 feet apart from the police's current facility, which will still be fully functional until the new structure is completed. After completion, the existing facility will be demolished and replaced with secured parking in its place.
The new facility will include a multi-purpose training room that can also function as an emergency operations center; a modern infrastructure to support data, voice and other communications applications; and security systems that will improve safety for visitors, police staff and arrested individuals. The new parking structure will accommodate 155 secured spaces.
"This building will meet our needs of today and in the future," said Deputy Chief Sam Watson. "This state-of-the-art facility will meet our needs of safety and efficiency."
With thanking the public support for the project, Mayor Linda Olson said, "This project connects us all. It will be a healthy environment for our police and everyone who goes in and out."
The new building is on time and expected to be complete by the first quarter of 2019.