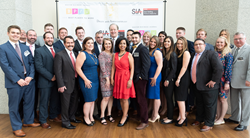 We take pride in our successes and know that we would not be successful without the trust that our clients place in us, year after year
BOSTON (PRWEB) June 27, 2018
The month of June marked a celebration for Daley And Associates Clients and Candidates. Daley And Associates hosted their annual Client Appreciation event in the spacious and beautiful atrium of One Financial Center, Boston. The event was held on a Thursday evening from 5 p.m. to 8 p.m. . Many of the DAA clients and happily placed candidates, stopped by after work for this elite networking event.
"Each year we share our gratitude with our clients and candidates through this carefully planned and well managed event," said Mike Daley, President and CEO of Daley And Associates. "Each member of our team personally invites clients who we have worked with in the past few years. Daley And Associates is consistently one of the Best Places To Work For in the area. We take pride in our successes and know that we would not be successful without the trust that our clients place in us, year after year," he added. "Our Marketing and Operations team works for months to make this a pleasant and a rewarding experience for our guests. In the end we want this to be an event everyone remembers and looks forward to attending each year."
"Guests shared their appreciation for the event as well as for the relationship that they have with members of the DAA team," said Christyn Thatcher, the Chief Operating Officer and CFO at Daley and Associates. "Each year this event takes a lot of effort to put together, but when we hear back from hundreds of attendees that they had a great time and that they value this networking opportunity, it makes it all so worth it."
Daley And Associates holds this annual Client Appreciation event on the first Thursday of June each year.
About Daley And Associates, LLC : Daley and Associates (DAA) is a boutique executive search and contract staffing firm that is specializing in placing Accounting, Finance, Administration, Information Technology, Legal and Life Sciences professionals into outstanding opportunities at all levels. The DAA team is comprised of executives, senior management, and expert team of recruiting professionals. They take pride in excellent client relationships, superior industry knowledge, and personable approach ensuring a great fit between the goals and needs of each client and candidate. DAA matches exceptional talent with employers to produce exceptional results.