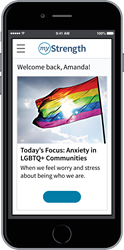 Our platform is inclusive, ensuring LGBTQ+ communities, among others, have a safe, stigma-free support system through our tools
DENVER (PRWEB) June 27, 2018
myStrength, Inc., the innovative leader in digital behavioral healthcare, today launches an expansion of its interactive self-care activities and exercises focused on LBGTQ+. New evidence-based content includes topics like Proactive wellness, Dealing with minority stress, Building a support system, Finding equitable care, Suicide/self-harm prevention and Addressing problematic substance use.
LGBTQ+ stands for lesbian, gay, bisexual, transgender, and queer or questioning. "Questioning" applies to an individual who may be uncertain of their sexual orientation or gender identity. "Queer" is an umbrella term for sexual or gender minorities who are not heterosexual or cisgender (a person whose identity corresponds with their birth sex). In 2016, 10.05 million adults identified as LGBTQ+.
As a sexual minority group, the LGBTQ+ population faces several challenges including issues related to stigma, lack of cultural sensitivity, discrimination, as well as acceptance of their sexual orientation and gender identity. LGBTQ+ individuals risk persecution, victimization and violence, amplifying stress that can promote behavioral health and substance use disorders as well as suicide. Research also shows:

LGBTQ+ populations are 3 times more likely than heterosexual peers to face mental health issues, and 2.5 times more likely to deal with depression, anxiety and substance use disorders.
One in 3 LGBTQ+ adults will experience mental illness this year.
1.9 million sexual and gender minority adults experienced severe depression in the past year—that is 18.9%, compared to 6.2% of sexual majority adults.
Only 1 in 2 LGBTQ+ adults in need of mental healthcare will receive treatment.
Perceived discrimination and disrespect drove almost 30% of transgender individuals to delay or forego treatment when sick or injured; more than 30% postponed or did not pursue preventative care.
"myStrength is committed to providing self-help solutions that meet people wherever they are in their journey. It is critical for myStrength's platform to reflect inclusivity to ensure LGBTQ+ communities, among others, have a safe, stigma-free support system through our tools," said Scott Cousino, myStrength's Co-Founder and CEO. "We are driven to continue to develop new programs and innovative solutions that offer a secure and comfortable platform to facilitate health and well-being for all."
By integrating LGBTQ+ activities within self-care resources for stress, anxiety, depression, substance use, insomnia, chronic pain, and opioid management, myStrength is pleased to expand its support for the prevalence of whole health and wellness.
To request a demo or learn more about myStrength, please contact us at: https://www.mystrength.com/contact
About myStrength
myStrength, Inc. is a recognized leader in digital behavioral health. myStrength greatly enhances traditional care models, while addressing issues of cost, lack of access, and stigma, to deliver mental health and well-being resources at scale. Our platform targets the most prevalent and costly behavioral health conditions ─ empowering consumers with innovative self-care resources to manage and overcome challenges with depression, anxiety, stress, substance use disorder, chronic pain and sleep. myStrength's evidence-based resources offer digital interactive exercises, self-care modules and daily wellness inspiration, which is personalized to each user. myStrength collaborates with more than 150 health plans, integrated health systems, EAPs, disease management providers, managed and community behavioral health providers, strategic alliances, ACOs and FQHCs. For more information, please visit http://www.myStrength.com