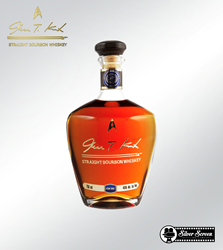 (PRWEB) June 27, 2018
Star Trek fans will soon have a new way to relax and enjoy their favorite episode or film. Under license by CBS Consumer Products, Silver Screen Bottling Company will launch a Star Trek branded spirits line. The first spirit, James T. Kirk Straight Bourbon Whiskey, will debut on June 27. An opportunity to purchase this limited release small-batch bourbon can be found at http://www.JamesTKirkBourbon.com.
The artisan bourbon celebrates Captain James T. Kirk's bold spirit of adventure.
Star Trek "behind the scenes" veteran, graphic designer, Mike Okuda lends his contributions to the development of this very unique spirit.
James T. Kirk Straight Bourbon Whiskey is a serious bourbon selected from choice barrels aged between 4-12 years. Each small batch release of James T. Kirk Straight Bourbon Whiskey exhibits a depth and richness seen in only the finest examples of bourbon with notes of caramel, Asian 5 spice and pecan. Crafted with the highest respect for the whiskey and for the man that bears its name, James T. Kirk Straight Bourbon Whiskey is for the Star Trek fan and the serious bourbon fan alike.
The James T. Kirk Straight Bourbon Whiskey will be featured at San Diego Comic-Con, July 19-22, 2018 in San Diego, CA, with additional spirits set to make their debut.
About CBS Consumer Products
CBS Consumer Products manages worldwide licensing and merchandising for a diverse slate of television brands and series from CBS, CBS Television Studios and CBS Television Distribution, as well as from the company's extensive library of titles, Showtime and CBS Films. Additionally, the group oversees online sales of programming merchandise. For more information, visit http://www.cbsconsumerproducts.com.
About Silver Screen Bottling Co
Silver Screen Bottling Company is a partnership between The Whitener Company and Chronicle Collectibles forming a premiere licensing, bottling, and distribution company for the most prized properties in film, television, and gaming industries with plans to deliver expertly crafted and marketed spirits, collectibles, and merchandise. Silver Screen Bottling Company proudly brings the James T. Kirk Straight Bourbon Whiskey to market as its debut offering.
About The Whitener Company
The Whitener Company™ is a diversified consulting & investment company specializing in the media, sports, and technology spaces. The company provides expert consulting services in the areas of marketing technology, event production and management, sponsorship sales, and business portfolio management and acceleration. The Whitener Company™ assists clients in building and executing strategic options for growth and capital needs. The company operates around the world and has offices or portfolio companies in Hollywood, Dallas, Chicago, New York City, Charlotte, Atlanta and Knoxville.
About Chronicle Collectibles
Dallas, TX based, Chronicle Collectibles is a company of collectors and prop makers with a shared vision of recreating and bringing Hollywood's most iconic props to life. All products are molded, cast or grown from original puppets, props, studio molds, sculptures and digital files provided by the incredible licensors and talented artists that we have the pleasure of working with.