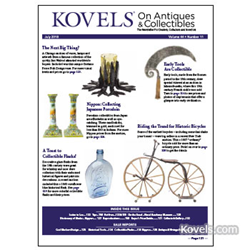 CLEVELAND (PRWEB) July 02, 2018
A unique collection of mid-20th century furniture and accessories auctioned in Chicago and it's featured in Kovels On Antiques & Collectibles July 2018 newsletter. The unusual and quirky items captured the attention of bidders who paid from $133 for a 1950's Scandinavian telephone to more than $80,000 for a lot of 27 paintings by a single graffiti and mixed media artist. Kovels' pictures some of the items that sold in-between, from a post-modern take on a Chippendale chair to a cabinet shaped like an abstract woman with nine strategically-located drawers.
Collectors said Cheers! to 19th-century historical flasks with molded likenesses of famous presidents, politicians, figures and themes of the day. Examples of figural bottles in distinctive colors and shapes that sold for a few hundred to over $10,000 are in Kovels' July newsletter. And early tools drew special interest at auction in Massachusetts, where a French 19th-century sickle with a curved blade ending in a spiral brought $2,000. Find other old tools – from a 1700's axe sold for $2,952 to an 1800's cabinetmaker's bow that went for $492 – in Kovels' latest issue.
A popular annual bicycle auction in New York included everything from early velocipedes with wooden spoked wheels to vintage two-wheelers. See the 1968 Schwinn Run-a-Bout that went for $826; a German bicycle-built-for-three that brought $1,770; an 1890's pneumatic safety bicycle and other models in Kovels' latest newsletter. And Japanese Nippon porcelain was eye-catching and affordable at an Indiana auction. Kovels' July newsletter pictures Nippon candlesticks, vases, a humidor, platter, urn, stein and plaque, most decorated with gilt beaded trim.
The Kovels go "on the road" to the United States Naval Academy Museum to see rediscovered battle flags, many captured by the Navy in 19th-century conflicts. Kovels' popular illustrated Collector's Gallery answers readers' questions about a silver tea set, a Belleek vase, a set of marked English dinnerware and a wooden box that once held lamp oil. July's Dictionary of Marks dates eight different Nippon ciphers and back stamps. And more than 70 antiques and collectibles are listed in July's Buyer's Price Guide.
Kovels On Antiques & Collectibles is available as a print subscription, or as a digital version that is part of the Kovels.com Premium subscription.
Terry Kovel is America's foremost authority on antiques and collectibles. She is the well-known columnist and author of more than 100 books on antiques and collecting. The 2018 / 50th anniversary edition of Kovels' Antiques & Collectibles Price Guide is currently available at Kovel.com and local bookstores. Terry Kovel will discuss antiques and collectibles topics with accredited media. Photographs are available. Contact pr(at)kovels(dot)com.
About Kovels.com
Kovels.com, created by Terry Kovel and her daughter, Kim Kovel, provides collectors and researchers with up-to-date and accurate information on antiques and collectibles. The company was founded in 1953 by Terry Kovel and her late husband, Ralph. Since then, the Kovels have written some of America's most popular books and articles about antiques, including the best-selling annual Kovels' Antiques & Collectibles Price Guide. The website, Kovels.com, online since 1998, offers more than a million free prices, and includes a free weekly email, "Kovels Komments." It gives readers a bird's-eye view of the market through the latest news, auction reports, a Marks Dictionary, readers' questions and answers and much more.
Contact Information:
Liz Lillis
216.752.2252
Pr(at)kovels(dot)com