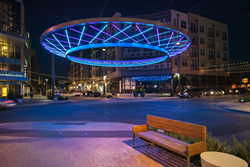 "PipelineDeals CRM is built around building business relationships. You can see that in it the CRM features and in how PipelineDeals functions as a company. This has helped us immensely." - Dean Pritchard, CEO at WLS Companies
SEATTLE (PRWEB) June 28, 2018
PipelineDeals, the most adopted customer relationship management (CRM) software among small and midsize businesses (SMB), was selected by WLS Companies to increase its sales momentum during a phase of rapid business growth.
"This company is more than 40 years old and we think of ourselves as a relationship-based company that was successfully founded on networking and good business," said Dean Pritchard, CEO at WLS Companies. "PipelineDeals CRM is built around building business relationships. You can see that in it the CRM features and in how PipelineDeals functions as a company. This has helped us immensely."
WLS Companies implemented PipelineDeals as they took on a growing list of clients for interior, exterior and custom lighting projects. Since implementing PipelineDeals as a scalable, easy-to-use solution with robust reporting features, WLS Companies expanded its team by 30 percent, experienced a 100 percent increase in company efficiency, and remains poised to double or triple revenue by 2020.
Prior to PipelineDeals, WLS Companies said they used Act! CRM which lacked reporting features and functionality they needed to meet their growing needs.
"The ability to quantify and organize the reasons a deal was lost improved our sales training practices and that has led to new solutions for our clients," said Tammy Bertrand, Senior Vice President of Finance and Operations. "As for adoptability, PipelineDeals is quick and easy to learn plus it is very user friendly which made training an easy process for our entire sales team."
Another characteristic stood out to WLS Companies about PipelineDeals: a commitment to relationship building.
"PipelineDeals is a great fit for manufacturers and designer companies, like WLS Companies, that need a scalable CRM completely customizable to their business needs," said JP Werlin, CEO and co-founder of PipelineDeals. "With updated customer data available to them at all times, SMBs can successfully foster business relationships and grow their sales pipeline."
To view the full WLS Companies success story, visit: http://www.pipelinedeals.com/customers/wls
About PipelineDeals CRM
Founded in 2006, PipelineDeals is the most adopted CRM for small and midsize businesses, empowering sales teams across a breadth of industries to build game changing relationships. PipelineDeals is built around an easy-to-use and customizable user experience, sales focused features, and leading customer support and service. Today more than 18,000 users in 60 countries use PipelineDeals to gain visibility into their sales pipeline to accelerate opportunities and close more deals.
Headquartered in Seattle, WA, PipelineDeals has made the annual Inc. 5000 list since 2014, recognized as one of the fastest growing companies in the U.S. For more information about PipelineDeals or to try a 14-day free trial, please visit http://www.pipelinedeals.com and engage with PipelineDeals on Twitter.
About WLS Companies
Established in 1969, Fort Worth based WLS Companies is a full-service commercial lighting systems manufacturer and designer. WLS is focused on developing new products, introducing new technologies, and offering more services while continuing to be a leader in the lighting industry. With over 7,500 completed projects, WLS works direct with owners, retailers, architects, consultants, contractors, and other strategic partners.
For more information about WLS Companies, please visit http://www.wlslighting.com