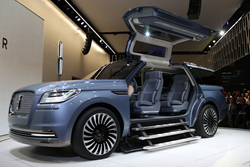 This provided a rare opportunity to show the audience the work that takes place here at Prefix
ROCHESTER HILLS, Mich. (PRWEB) June 28, 2018
Due to the competitive nature of concept vehicles and new product designs, confidentiality is taken very seriously at Prefix Corporation. It is rare that the public would ever have access to their facility, let alone filming for television. "The timing was right. We were fortunate to have a few properties here that are soon to be released," explained Prefix Director of Marketing, Jhan Dolphin. "This provided a rare opportunity to show the audience the work that takes place here at Prefix, while most current projects will remain locked behind private, secure studio doors."
The television program will highlight one of the recent concept vehicles that was built from the ground up at Prefix, showing the various departments within the organization required to create a one-of-a-kind concept. Also highlighted, a current project that involves an all-electric high performance car, and a display property that promises to make every day errands in your car much more convenient.
"Today's driver expects much more from the technology inside their automobiles, presenting an extraordinary opportunity to make in-vehicle payments even more seamless than most could imagine being possible," said Olabisi Boyle, Senior Director of connected cars, at Visa. "Through our work with Prefix, we've built an experience that can demonstrate all that is possible - now and in the future - as the point-of-sale increasingly moves anywhere the consumer wants it to be."
This will be the first time the public will see the new Visa demonstration, before it begins being utilized at events across the country.
About PREFIX CORPORATION – Prefix Corporation is best known for being the automotive industry's number one source for creating advanced concept vehicles and prototypes, as well as providing design and engineering services. They operate four facilities in the Detroit area, with over 250 employees. They have created some of the most technologically advanced and high profile concept vehicle builds in the business, the latest electric and autonomous vehicles, and even movie props like the spaceships from the Transformer's film franchise. For additional information on Prefix Corporation, visit: http://www.PREFIX.com
Scheduled air dates and times for the Performance TV program are:

June 30th (Velocity) 9:30am (EST)
July 17th (ReVVin-TV) 7:00pm (EST)
July 21st (ReVVin-TV) 1:00pm (EST)
July 22nd (ReVVin-TV) 1:00pm (EST)
July 27th (Lucas Oil's MAV-TV) 9:30am (EST)