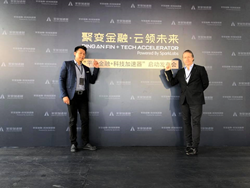 "We are excited to be partnering with Ping An, and to be working with such a strong group of companies. The average capital raise for the ten companies prior to joining this first batch was US$3.2 million, and more importantly it's a great group of founders," stated William Chu.
SHENZHEN, China (PRWEB) June 29, 2018
Ping An Fin+Tech Accelerator powered by SparkLabs launched its first batch. The program is a collaboration between Ping An Group and SparkLabs Group (http://www.sparklabsgroup.com) under Futian District government's full support. Ten companies were selected out of over 120 applicants from around the world with applicants ranging from seed stage to Series B companies.
Ping An has invested over US$7.5 billion in FinTech, healthcare, artificial intelligence industries in the past decade; developed over 200 projects in the following areas: financial service, transportation, accommodation and government service with AI capability. With the support of Ping An Group and Ping An Cloud ecosystem, Ping An Fin+Tech Accelerator is focused on finding and partnering with innovative finance plus technology companies from around the globe to drive the technology revolution.
"We are excited to be partnering with Ping An, and to be working with such a strong group of companies. The average capital raise for the ten companies prior to joining this first batch was US$3.2 million, and more importantly it's a great group of founders. We designed the program for the innovative companies to fully leverage the resources from Ping An Group and SparkLabs right from the start, and we expect strong traction for every cohort," stated William Chu, Managing Partner with SparkLabs FinTech.
The ten companies are as followed:
Funding Xchange
FXE is seizing the power of data made available through open banking, cloud accounting and other sources to enable "one-click" funding applications to banks, alternative lenders and specialist financing providers. Using a cloud-based automated decisioning platform that accesses live transactional data sources, FXE enables the digitalisation and automatic underwriting of funding applications – allowing funders' to reduce their costs of customer acquisition by up to 70% and accelerating speed of serving small businesses.
Canopy Cloud
Getting a complete and accurate view of a high net-worth individual's whole wealth is a persistent challenge to the individuals and their wealth managers due to the sheer complexity of their assets diversely held in multiple private banks and beyond. Canopy is a platform that aggregates all assets and provides visualization, reporting, analysis and client communication.
Velotrade
Velotrade is an online marketplace where SMEs get funding by selling their invoices to investors who earn above market returns with attractive risk/return profiles. All invoices are insured by a leading international insurance company and with the help of a number of partners we offer bank-grade security throughout the KYC and validation procedures.
HedgeSPA
HedgeSPA is a core investment platform built on artificial intelligence, big data, and cloud computing. It can help leading financial institutions automatically reinvest and adjust their balance sheets to minimize capital requirements and improve profits, as well as to better serve their institutional and high-net-worth clients by automating the most tedious aspects of asset selection and portfolio rebalancing.
Kangpe
Kangpe uses mobile phones, telemedicine and data science to make health insurance cheaper and easier to purchase for the over 900 millions Africans who do not have access to health insurance. Health insurance is estimated to be a $50 billion a year market in Africa. Kangpe is well positioned to capture a sizable share of this market as evidenced by its 50% month over month growth since their launch in January 2018.
UBiAi
UBiAi Technology is a leading automotive data and AI startup and national high-tech enterprise in China. They aim to utilize the connected car data to drive innovation in automotive finance and insurance business, and provide the best experience digital service to the automotive customer.
Gliding Eagle
Gliding Eagle is a California-based technology company using blockchain and cloud based system to track each individual product item from the source to the end consumer around the world. They are using this system to ensure direct delivery of latest hepatitis and cancer drugs to Chinese hospitals.
vPhrase
vPhrase's AI product, Phrazor, summarises data into a few bullet points which highlight the key insights people need for decision making. With Phrazor, customers don't have to spend time analyzing numbers or interpreting dashboards, as they receive insights instantly and ready to use.
The CareVoice
Shanghai-based insurtech transforming healthcare to be more consumer centric. At the core of the company mission is an independent mobile social platform that provides trusted, community-sourced ratings and recommendations on top-quality healthcare services. For insurers, The CareVoice brings mobile-based and data-driven SaaS solution that digitizes healthcare and insurance records to unleash value for insurance companies and their customers.
FonePay
FonePay is Pakistan's first payments super app, and is powered by a unique platform that brings together the largest combination of banks, online and offline merchants. This empowers users for their everyday payments needs straight from one app, and no matter who they bank with and where they shop. The FonePay QR based merchant network is currently the largest acceptance network in Pakistan, with over 70,000 merchants, and is servicing customers from fourteen banks.
About Ping An
As China's first joint stock insurance company, Ping An Insurance (Group) Company of China, Ltd. ("Ping An") strives to become a world-leading technology-powered personal financial services group. Today, it is an integrated, compact, multi-functional financial services group with services that include insurance, banking, and investment. As of 31 December, 2017, the Group had over 166 million retail customers. At the end of December 2017, the Group's consolidated total assets reached RMB6.49 trillion, while equity attributable to share holders of the parent company stood at RMB 473,351 million. Ping An Life and Ping An Property & Casualty are both ranked as the second largest in China, and Ping An Annuity is the top-ranked in China in their respective areas by premium income.
Its subsidiary Ping An Bank is China's first joint stock bank. The Company's key areas of business include investment, with subsidiaries such as Ping An Trust,Ping An Securities and Ping An Asset Management. Furthermore, Ping An strives to develop internet finance, including Lufax, Ping An Good Doctor, Ping An Haofang, E-Wallet, One Connect, Ping An Healthcare Management Services, Wanjia Healthcare. It has achieved significant growth in both the scale and user base of internet finance. As of 31 December, 2017, the number of internet users of the Company reached 436 million.
Ping An ranked 16th in Forbes' 2017 Global 2000, and it ranked 39th in Fortune Magazine's 2017 Global 500 Leading Companies. Ping An also ranked 61st in WPP Millward Brown's BrandZTM Top 100 Most Valuable Global Brands.
For more information, please visit http://www.pingan.cn/en/index.shtml
About SparkLabs Group
Founded in 2013, SparkLabs Group (http://www.sparklabsgroup.com) includes SparkLabs accelerator network, Asia's premier startup accelerators; SparkLabs Global Ventures (http://www.sparklabsglobal.com), a leading seed stage fund; SparkLabs Ventures, a localized early-stage fund (Series A & B) in South Korea; SparkChain Capital (http://www.sparkchaincapital.com), an early stage blockchain and cryptocurrency fund; and SparkLabs Capital, a late stage investment vehicle.
SparkLabs accelerator network consists of SparkLabs Korea (Seoul), SparkLabs China (Beijing and launching Shanghai, Chengdu and Shenzhen), SparkLabs IoT & Smart Cities (Songdo, South Korea), SparkLabs Cultiv8 (AgTech, FoodTech & Sustainability in Orange, Australia), SparkLabs Taipei and SparkLabs FinTech (Shenzhen, Hong Kong).