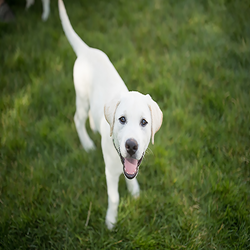 Embrace is the only pet insurance company that offers a wellness plan with flexible reimbursement versus fixed or pre-set reimbursement limits for dogs as young as six weeks old.
CLEVELAND (PRWEB) June 28, 2018
Bringing home a new puppy is a fun and exciting time for pet parents, but it's also important to understand the costs of puppy ownership. According to the Washington Post, new dog owners can expect to spend between $1,200-$2,000 in the first year, and as much as $14,500 over their pup's lifetime for routine care costs alone. Unexpected accidents and illnesses also happen, and it can get expensive when they do.
Having the essentials can help alleviate the financial aspect of bringing home a puppy. Pet parents should plan for the following:

1. Good quality food: Read the ingredients to make sure the food is formulated for puppies and has meat as the first ingredient rather than food that is full of filler.
2. Comfortable bedding: Make sure the puppy has a warm and quiet place to rest.
3. Treats & toys: Treats are great training tools for a new puppy but should not make up more than 5% of his or her daily diet. When a new puppy comes home be sure to have a few interactive toys to keep them busy and help them learn to self-entertain.
4. Collar, ID tag, leash, & microchip: Safety is key. Microchipping a pet can save their life. Having a collar and nametag to identify the pet in case they get lost is also important.
5. Pet insurance: Signing a puppy up for a pet insurance policy will benefit pet parents financially throughout the course of their pup's life. It's best to sign them up early to avoid any pre-existing conditions later on.
Puppies are naturally curious, and they can get sick easier because of their underdeveloped immune systems. Protecting them against costly accidents and illnesses while they're young is important. Embrace offers one comprehensive nose-to-tail policy for puppies and dogs. Once a puppy is protected with an Embrace policy, they're covered for life.
Embrace also offers Wellness Rewards for routine care that pet parents can add on to any policy. Wellness Rewards reimburse for vaccinations, spay/neuter, grooming, flea/tick prevention, behavioral training classes, and much more. Only a handful of other pet insurance companies offer a wellness plan, but Embrace is the only one that offers flexible reimbursement versus fixed or pre-set reimbursement limits for dogs as young as six weeks old. With Embrace, pet parents pick their annual allowance for wellness care from $250, $450, or $650 and the funds are available the day they sign up. When there are fixed maximums per item (e.g. $50 to spend on preventative medications) it's difficult to get the full value, and pet parents either end up paying for items they don't need or getting too little back on items they do need.
For total, all-encompassing protection and the most flexible wellness plan in the industry for puppies, pet parents should visit http://www.embracepetinsurance.com/puppy-insurance.
About Embrace Pet Insurance
Embrace Pet Insurance is a top-rated pet health insurance provider for dogs and cats in the United States. Embrace offers one simple yet comprehensive accident and illness insurance plan that is underwritten by American Modern Insurance Group, Inc. In addition to insurance, Embrace offers Wellness Rewards, an optional preventative care product that is unique to the industry. Wellness Rewards reimburses for routine veterinary visits, grooming, vaccinations, training, and much more with no itemized limitations. Embrace is a proud member of the North American Pet Health Insurance Association (NAPHIA) and continues to innovate and improve the pet insurance experience for pet parents across the country. For more information about Embrace Pet Insurance, visit http://www.embracepetinsurance.com or call (800) 511-9172.