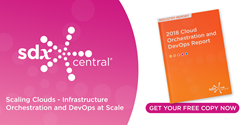 Cloud computing technologies have been with us the last 10+ years, but in the last few years, cloud computing has captured significant market and mind share.
SAN FRANCISCO (PRWEB) July 03, 2018
SDxCentral.com announces the availability of a new report: Scaling Clouds - Infrastructure Orchestration and DevOps at Scale: The 2018 Cloud Orchestration and DevOps Report.
The development of public, private, and hybrid clouds has had an enormous impact on how software-defined anything (SDx) infrastructure is developed and built. Our latest Cloud Orchestration and DevOps Report looks at the platforms and tools available to help end-users maximize the efficiencies and value they can derive from their cloud data centers.
Cloud computing technologies have been with us the last 10+ years, but in the last few years, cloud computing has captured significant market and mind share. Along with uptake and use of hybrid (private and public) and multi-clouds (use of more than one public cloud), cloud orchestration and automation has become more critical. Public cloud providers are extending their reach into private clouds and private cloud providers are doing likewise into public clouds.
In addition to the types of networks being utilized, there's also increasing diversity in types of clouds being consumed, from IaaS (Infratructure as a service) and PaaS (platform as a service), to Container as a Service (CaaS) and increasing interest in server-less technologies (sometimes called Functions-as-a-Service).
The report focuses on cloud management and examines key developments in cloud and multi-cloud and will touch on the container management space. We will identify key requirements and features for DevOps, orchestration, and automation solutions. 
The report will also cover the potential convergence between orchestration and management tools for managing bare-metal, VMs, containers and the different combinations (e.g. containers on VMs). We'll highlight trends in how management tools are delivered from SaaS or on-premises, open-source or vendor-proprietary and other variations. Finally, we'll provide a sampling of vendor solutions on the market today.
The report also includes results from a survey conducted by SDxCentral's research team with select members of the SDxCentral community. This report is complimentary and available for download at SDxCentral.com. Vendors who are interested in participating in future versions of this report or other reports published by SDxCentral.com can contact us at research@sdxcentral.com.
Table of Contents
Executive Summary
Enterprise Cloud Orchestration Landscape in 2018
Cloud and Cloud Orchestration Technologies 101

Clouds and Hypervisors
Cloud Management Platforms
Containers and Container Management
Cloud Management and Orchestration Fundamentals

A Brief Taxonomy: Private Cloud, Public Cloud, Hybrid Cloud and Multi-Cloud
Cloud Orchestration and Management Challenges

Crossing the Cloud Orchestration Chasm
CMPs a Moving Target Undergoing Market Consolidation
Cloud Management Platform (CMP) Key Features

Basic CMP features
Advanced CMP Features
Cloud Orchestration Standardization and Integration Efforts
DevOps and Infrastructure Automation: Role of CMPs

IT Automation and Machine Learning
From DevOps to NetOps
2018 SDxCentral Cloud Orchestration and Automation Survey Results and Analysis

Current Deployments
Challenges
Cloud Orchestration and DevOps - Conclusion and Recommendations
2018 Cloud Orchestration and DevOps Report Products
Featured Cloud Orchestration and DevOps Report Products
Cloud Management and Orchestration Products
DevOps and Automation Products
Covered Companies and Organizations
A10 Networks, Amazon Web Services (AWS), CA Technologies, Chef, Ciena, Cloud Native Computing Foundation (CNCF), Docker, Embotics, Ericsson, Nokia, Nuage Networks, Octopus Deploy, Puppet, Red Hat, RightScale, SaltStack, and Sardina Systems.
About SDxCentral
Launched in 2012, SDxCentral.com is the fastest-growing and leading B2B digital media company for Cloud, Enterprise, and Telecom IT Infrastructure. SDxCentral serves an audience of over 200,000 unique monthly audience members generating over half-a-million page views a month. The site provides cutting-edge coverage of software-defined infrastructure including 5G, IoT, Edge Computing, SDN, NFV, Cloud, Containers, Security and AI/Machine Learning and connects technology buyers with its clients in the most effective way. SDxCentral's client list reads like the who's who of technology infrastructure, ranging from leading Fortune 50 companies to rapidly growing startups looking to revolutionize software infrastructure.