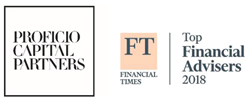 Tax is a huge destroyer of wealth. We're growing our client-base among families who are focused on growing wealth in the most tax efficient way possible.
BOSTON (PRWEB) June 28, 2018
Proficio Capital Partners, a multi-family office servicing as a high touch manager of both liquid and illiquid financial assets, is pleased to announce it has been named to the 2018 edition of the Financial Times 300 Top Registered Investment Advisers. The list recognizes top independent RIA firms from across the U.S.
With a focus on building highly tax efficient investment strategies for its clients, Proficio Capital Partners has grown to over $1 billion in assets under management since 2014. "We founded the firm after becoming frustrated with the lack of options for families to evaluate their true performance after fees and taxes," said Bob Haber, Proficio Co-Founder and Chief Investment Officer. "To be named to such a prestigious list is a testament to how our offering resonates with families and high net worth individuals."
To further facilitate their tax efficient investment strategy, in 2017 Proficio launched its own Multi-Strategy Insurance Dedicated Fund (IDF) series in an effort to generate highly competitive risk-adjusted returns through the construction of a highly diversified and actively allocated combination of asset classes and securities. The Fund is available inside both variable annuity (PPVA) and variable life insurance (PPVUL) policies.
"Tax is a huge destroyer of wealth and that effect grows exponentially with every generation. This is particularly relevant for families trying to pass on the wealth of the family business from generation to generation," said Matthew Wosk, Proficio Co-Founder and Chief Executive Officer. "We are growing our client-base among families who, like us, are focused on growing wealth in the most tax efficient way possible."
This is the fifth annual FT 300 list, produced independently by the Financial Times in collaboration with Ignites Research, a subsidiary of the FT that provides business intelligence on the asset management industry.
RIA firms applied for consideration, having met a minimum set of criteria. Applicants were then graded on six factors: assets under management (AUM); AUM growth rate; years in existence; advanced industry credentials of the firm's advisers; online accessibility; and compliance records. There are no fees or other considerations required of RIAs that apply for the FT 300.
The final FT 300 represents an impressive cohort of elite RIA firms, as the "average" practice in this year's list has been in existence for over 22 years and manages $4 billion in assets. The FT 300 Top RIAs hail from 38 states and Washington, D.C.
The FT 300 is one in series of rankings of top advisers by the Financial Times, including the FT 401 (DC retirement plan advisers) and the FT 400 (broker-dealer advisers).
About Proficio Capital Partners
Proficio Capital Partners is a multi-family office located just outside Boston, Massachusetts. Founded in 2014 by Bob Haber (CIO; previously at Fidelity) and Matthew Wosk (CEO; previously at Credit Suisse and Goldman Sachs), Proficio serves as a high-touch manager of both liquid and illiquid financial assets operating with high transparency to families, trustees, and administrators. The firm follows a service delivery model holding themselves as an objective provider of advice that places the interests of their clients first with a focus on wealth preservation and after-tax, after-fee, risk adjusted returns. For more information go to: http://www.proficiocap.com.