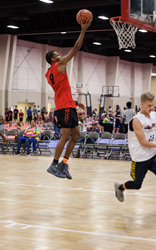 Meeting the needs of AAU and other elite organizations are what drives the continuous evolution of our court technologies - Jorgen Moller, CEO SnapSports
SALT LAKE CITY (PRWEB) June 28, 2018
Utah Based SnapSports® brings new meaning to the term 'home-court advantage' this month, providing 32 of their I ndoor BounceBack® basketball courts to the AAU Big Mountain Jam and AAU Rocky Mountain Showcase – both taking place a short distance away from SnapSports headquarters in Salt Lake City. The Mountain America Expo Center in Sandy, Utah, will host both tournaments beginning with the Big Mountain Jam taking place June 21-23rd and concluding with The Rocky Mountain Showcase June 28-30th. SnapSports, a long-time partner of AAU, is proud to be a key partner to the growing tournaments, taking place each year in their backyard.
"Our team is so excited to be part of such successful tournaments, so close to home. To have our courts chosen by such a prestigious organization is a testament to the safety, durability, and performance of SnapSports basketball surfaces. Meeting the needs of AAU and other elite organizations are what drives the continuous evolution of our court technologies" - Jorgen Moller, CEO SnapSports
Both weekend Tournaments, put on by AAU's Jam On It Academy, will feature basketball teams from all over the West, including top teams from Arizona, California, Colorado, Idaho, Montana, New Mexico, Washington, Wyoming, Utah and Canada. Big Mountain Jam, in its 7th year, will showcase 450 teams, while the Rocky Mountain Showcase, in its second year, brings 300 teams comprised of boys and girls of all ages. All teams will compete on SnapSports BounceBack® Basketball courts throughout tournament and championship play. When looking for a tournament ready, easy to install, surface that could handle hundreds of games and 700+ teams at varying levels of competition, Matt Williams CEO Jam On It Academy/AAU Western Governor knew who to call.
"Over the years we've used nearly every indoor modular surface and I can say unequivocally that SnapSports products are the best in the industry! The Revolution and BounceBack locks stay locked, work great over a variety of surfaces and just don't break. They disassemble easily and are ready to use over and over again."
Williams and the rest of AAU and the Jam On It Academy are thrilled with the success of the Utah tournaments. The Rocky Mountain Showcase was started two years ago to accommodate additional teams who had been previously turned away from the full Big Mountain Jam. Participation in both weekend tournaments is expected to continue its exponential growth.
SnapSports patented technologies make their surfaces an easy choice for not only AAU and other top sports organizations around the world but also the best option for any home backyard court or gym. SnapSports manufactures 24/7, in a 100,000 square foot ISO 9001:2008 quality certified facility in Salt Lake City, UT, and is supported by an authorized global network. SnapSports is a family owned and operated company.