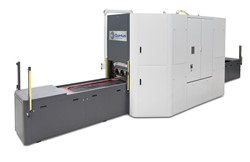 A complete HPWF cycle, from heating and loading to forming and unloading, takes less than five minutes.
VÄSTERÅS, Sweden (PRWEB) June 28, 2018
High pressure expert Quintus Technologies has developed a new process, High Pressure Warm Forming (HPWF), that combines high pressure with a moderately elevated temperature for more rapid, cost-effective, and precise forming of titanium parts.
The new process paves the way for more widespread adoption of Ti-6Al-4V, the grade of titanium prized in many manufacturing sectors for its high strength, light weight, formability, and high corrosion resistance.
"In the aviation industry alone, market projections call for close to 35,000 new passenger and freighter aircraft to be built over the next two decades," says Sture Olsson, Global Business Development Manager, Sheet Metal Forming, at Quintus Technologies, a member of Kobe Steel Group. "These new models will consume less fuel and have a lighter environmental footprint. The lightweight properties of Ti-6Al-4V are integral to a fuel-efficient design strategy."
HPWF removes barriers to fabrication that previously limited the use of Ti-6Al-4V to specialty applications due to the high cost of current forming methods. Conventional milling has a scrap rate that can approach 70 percent. Hot forming processes, which take place at temperatures of above 1300°F (700°C), require an oxygen-free process atmosphere and entail several lengthy steps.
HPWF significantly improves on these methods by introducing an induction heating system to warm the blank-and-tool package to approximately 520°F (270°C)—well below the temperatures where a protective gas is required—just before entering the Quintus Flexform™ press. The press applies uniform high pressure (20,000 psi/140 MPa) to a flexible rubber diaphragm in conjunction with just a single rigid tool half to form complex sheet metal parts to final shape.
A complete HPWF cycle, from heating and loading to forming and unloading, takes less than five minutes. Forming at relatively low temperatures enables quick cooling. Overall, the efficiencies generated by the new Quintus process dramatically boost the production capacity for Ti-6Al-4V parts, increasing throughput by a factor of five over traditional hot forming processes.
"We are very excited to offer this new, highly efficient technology to industries seeking to expand their Ti-6Al-4V applications, particularly in the aerospace, medical, and marine sectors," says Jan Söderström, CEO of Quintus Technologies. "We look forward to demonstrating the benefits HPWF can bring to their forming operations."
About Quintus Technologies
Quintus Technologies specializes in the design, manufacture, installation, and support of high pressure systems for sheet metal forming and densification of advanced materials and critical industrial components. Headquartered in Västerås, Sweden, and represented in 35 countries worldwide, the company is the world leader in high pressure technology and has delivered more than 1,800 systems to customers across the globe within industries such as aerospace, automotive, energy, and medical implants. Read more about Quintus Technologies: http://www.quintustechnologies.com