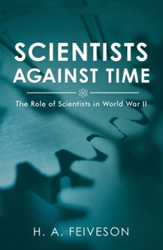 PRINCETON, N.J. (PRWEB) June 28, 2018
H. A. Feiveson explores the critical contributions of Allied scientists, engineers and mathematicians during World War II in "Scientists Against Time" (published by Archway Publishing). This historical account highlights many of the critical scientific advances in World War II in the fields of radar and aircraft technology, weaponry, atomic energy, cryptography and medicine.
Readers may visit https://www.archwaypublishing.com/Bookstore/BookDetail.aspx?BookId=SKU-001129269 to purchase and know more about the book.
In early 1942, the fate of the Allies appeared dire. Germany had conquered most of Western Europe and its armies were deep into Russia. Japan had overrun Manchuria, the Philippines and the Dutch East Indies. They had conquered large swathes of China and destroyed much of the U.S. battle fleet at Pearl Harbor. But the tide of World War II soon turned in favor of the Allies and in this, Allied scientists played a critical role.
Written to develop an appreciation of the role that science played in history, Feiveson shares a comprehensive study of the scientists' contributions to victory in the war. The chapters covered in the book include the Battle of Britain, the Battle of the Atlantic against German U-Boats, the battle for command of the air, the Allied breaking of the German enigma cipher, D-Day and the Allied invasion of Europe, and the Manhattan Project to develop an atomic bomb.
"Scientists Against Time" appeals to those who have interest in World War II and the impacts of science and mathematics in public policy.
"Scientists Against Time"
By H. A. Feiveson
Hardcover | 5.5 x 8.5in | 224 pages | ISBN 9781480854789
Softcover | 5.5 x 8.5in | 224 pages | ISBN 9781480854796
E-Book | 224 pages | ISBN 9781480854802
Available at Amazon and Barnes & Noble
About the Author
H. A. Feiveson is a senior research scientist emeritus who co-directed the program on science and global security at Princeton University for 30 years. His new book, "Scientists Against Time," draws upon several freshman seminars focusing on scientists in World War II that he taught at Princeton. He is also a co-author of "Unmaking the Bomb: A Fissile Material Approach to Nuclear Disarmament and Nonproliferation," "The Nuclear Turning Point: A Blueprint for Deep Cuts and De-Alerting of Nuclear Weapons" and "Nuclear Proliferation."
Simon & Schuster, a company with nearly ninety years of publishing experience, has teamed up with Author Solutions, LLC, the leading self-publishing company worldwide, to create Archway Publishing. With unique resources to support books of all kind, Archway Publishing offers a specialized approach to help every author reach his or her desired audience. For more information, visit http://www.archwaypublishing.com or call 888-242-5904.