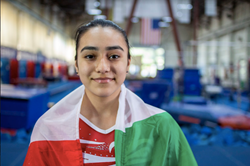 Frida Esparza aims to lead the Mexico Gymnastics team to success in the upcoming 2018 Pan American Games and World Championships.
EMERYVILLE, Calif. (PRWEB) June 29, 2018
In June of 2018, the life of Frida Esparza, rising 17-year-old gymnastics star, dramatically changed. The teen's dual United States and Mexico citizenship enabled her to compete amongst Mexico's top gymnasts. On June 4th, Frida traveled from Northern California to Mexico City to compete at the 2018 Mexican National Championships. She astonished the Mexican gymnastics community by winning the All-Around title and the Uneven Bars. Two weeks later, the brand new Mexican National Champion traveled back to the city of Querétaro in Mexico to confirm that she was indeed Mexico's top gymnast.
In Querétaro, Ms. Esparza competed in the 2018 Olimpiada Nacional, a competition for athletes 18 and younger. At this exclusive competition, she won gold medals in the All-Around, Uneven Bars, and Floor Exercise. The impressive part about these wins is the vast improvement she showed in her performances. Frida debuted several new skills in this event, performing them flawlessly. Her success at these two competitions has secured her a spot representing Mexico at the upcoming PanAm Games held in Lima, Peru in September, and the prestigious 2018 World Championships in Doha, Qatar, held in October.
Frida trains at Head Over Heels Athletic Arts in Emeryville, California, under the guidance of her coach Katreece Stone. Coach Stone has worked closely with elite gymnasts for the past four years. To gain this international success, Ms. Esparza and Coach Stone have carefully planned together, worked through injuries, and spent many long hours in the gym. After Ms. Esparza's recent achievements, Coach Stone explains, "These last few weeks have been a whirlwind. I'm just excited that Frida gets to show the world her exceptional gymnastics. She's worked very hard for this opportunity." This success did not come overnight and without sacrifice. The 30+ hour training schedule has led this seventeen-year-old to sacrifice vacations, fun outings with friends, and some of her favorite foods. When asked about what drives her motivation to continue through tough days, Ms. Esparza replies, "I have always dreamed of competing on an international stage. Competing in World Championships and the Olympics Games representing Mexico would be a dream come true. This is what drives me to train hard every day."
Outside the gym, Frida enjoys going shopping and watching Marvel movies. She loves eating homemade Mexican food and learning math and history in school. An only child, Frida says that she's grateful to her parents, hercoaches, and her HOH family for supporting her.
The life of this elite gymnast is beginning to embark where only few have been before. Right now, Frida is focused on competing well at the Pan American Games and World Championships this upcoming fall. In 2019, the goal is to stay healthy and continue to increase the difficulty of her routines as she competes internationally in the lead up to the 2020 Olympics in Tokyo. A passionate and graceful athlete, Frida has worked hard and sacrificed to achieve her dreams. Her family, friends, and the local gymnastics community have been ecstatic to watch the progress she's made over the years. They anticipate a bright future for this young lady with the exciting opportunities that lie on her road ahead.