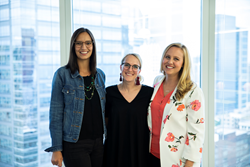 CHICAGO (PRWEB) June 28, 2018
Walker Sands, an integrated PR and digital marketing agency for B2B technology and professional services companies, has elevated three senior account directors to the role of partner. Chicago PR leaders Allison Ward and Erin Jordan, along with Seattle team lead Annie Gudorf, were named to the role effective this month.
"Walker Sands has nearly doubled in size since we last welcomed new partners to the firm," said President Mike Santoro. "The time is right to expand our leadership team and bring in new ideas and perspectives that will contribute to our next phase of growth."
Annie Gudorf joined Walker Sands in 2012 and worked her way up through media relations and account management roles before heading to Seattle to expand Walker Sands' west coast presence. With client experience that includes CompTIA and Nintex, Annie and her team are responsible for some of the agency's best campaigns – work that regularly receives recognition from the Public Relations Society of America, among others.
Erin Jordan joined the firm in 2012 and has grown to lead the agency's retail technology practice. In addition to her experience with brands including CloudCraze and Globant, Erin leads Walker Sands' annual Future of Retail research, now in its fifth year. Erin is a board member at PRC Next, a small group of rising leaders within the PR Council.
Allison Ward joined Walker Sands in 2013 as an account manager after prior experience in both agency and in-house PR roles. As a senior account director managing a book of business across FinTech, electronics and other areas, Allison's client experience includes work with Newark element14, Worldpay and Billtrust. She also serves as the PR partner for the Illinois Technology Association's Women Influence Chicago initiative.
"I am so excited to welcome these three talented, committed and driven individuals to the table," Santoro said. "They have earned it, and I look forward to seeing what we accomplish together."
Earlier this year, Walker Sands was named a top 5 tech agency in the U.S. and the best firm to work for in America (under 120 employees) by the Holmes Report.
As Walker Sands continues to grow, the firm has invested in several key hires in Web, content, video, account management and other areas. For a full list of open positions at Walker Sands, visit http://careers.walkersands.com/.
About Walker Sands
Walker Sands is a public relations and digital marketing agency for business-to-business technology companies. With an integrated approach to creative services, Walker Sands helps clients build brand awareness, enhance credibility and drive new business. Walker Sands is a five-time Inc. 5000 honoree and regular recipient of some of the industry's most prestigious awards from organizations including Entrepreneur, Holmes Report and Hermes Creative. Walker Sands was founded in 2001 and has offices in Chicago, San Francisco and Seattle. To learn more, visit walkersands.com or walkersandsdigital.com.