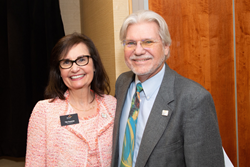 WESTCHESTER COUNTY, N.Y. (PRWEB) June 28, 2018
The Arc Westchester, the County's largest agency supporting individuals with intellectual and developmental disabilities, including those on the autism spectrum, and their families, hosted its 69th Annual Membership Meeting at The Gleeson-Israel Gateway Center on June 12. More than 150 chapter members, invited guests, self-advocates, staff and board members were in attendance.
The Annual Meeting formally acknowledged changes to the organization's board of directors. Of note, Joseph Cassarini was voted in as new board president.
"Joseph has supported this organization with great enthusiasm over the last seven years as a board director," said Rosa Rodriguez, incumbent board president, The Arc Westchester. "We look forward to his leadership in helping to guide the continued success of the organization."
Additionally, Patsy Ginese, Robert Hunt, Bernard Krooks and Rita Ross were recognized as retiring board members. Ginese was also presented the Richard P. Swierat Self-Advocate of the Year Award.
Following meeting adjournment, The Arc Westchester held a retirement celebration for Richard (Ric) P. Swierat, honoring his 35 years of exemplary service as the chapter's executive director. During the banquet reception, a wall mural was dedicated to the former executive director, who was a longtime champion for providing opportunities for individuals with intellectual and developmental disabilities to express themselves through art. The wall mural was developed in partnership with ARTSWestchester and local community artist Diane Cherr, who taught a seven-week class with contributing artists in The Arc Westchester's various day programs.
ARTSWestchester was also presented the gallery265 Partnership Award for its ongoing support of the artists-in-residence matching grant program, which provides community artists opportunities to engage in creative projects with people The Arc Westchester supports.
"This is the perfect send-off for Ric," said Tibisay (Tibi) Guzmán, new executive director, The Arc Westchester. "We're extremely grateful for all that he has done for our organization and the people we support. This mural will be a constant reminder of all we have to be proud of as an organization – and all we have to look forward to, as well."
At his celebration, Swierat received several proclamations from state and local government officials, including the County Executive's Office and City of Yonkers, to name a few. Other special guests and dignitaries included Joan Volpe, director of Region 3 Operations for the Office for People With Developmental Disabilities (OPWDD), who extended congratulations and best wishes from Albany.
"Ric has left an indelible mark not only on The Arc Westchester, but on a service delivery system that is evolving to better meet the needs of people with developmental disabilities in New York State," said Volpe. "On behalf of Governor Andrew Cuomo and OPWDD Acting Commissioner Kerry Delaney, thank you for your service and dedication in helping people with developmental disabilities live richer lives."
The Arc Westchester
The Arc Westchester, founded in 1949, is the largest agency in Westchester County supporting children, teens and adults with intellectual and developmental disabilities, including individuals on the autism spectrum, and their families. The organization's 850 employees provide more than 2,000 individuals throughout the county with a broad range of innovative and effective programs and services designed to foster independence, productivity and participation in community life.
The mission of The Arc Westchester is to empower children, teens and adults with intellectual and developmental disabilities, including individuals on the autism spectrum, to achieve their potential by strengthening families and encouraging personal choices, abilities and interests.
The Arc Westchester is a chapter of The Arc USA and The Arc New York.