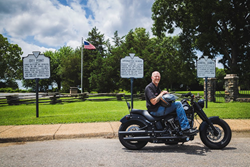 HOPEWELL, Va. and PRINCE GEORGE, Va. (PRWEB) June 28, 2018
Riders can travel back through 400 years of history on Scenic Route 5 east from Richmond, Virginia's current capital city, to Jamestown, the earliest permanent English settlement in America (1607) and Virginia's first capital. The Virginia House of Burgesses, the first elected legislative body in American, convened In Jamestown in July 1619, will soon celebrate its 400th anniversary as part of the American Evolution.
The return trip on Route 10 goes through Prince George and Hopewell, Virginia, where British Naval Commander Sir Thomas Dale established a settlement in 1613 and where Revolutionary War and Civil War battles were fought.
Called the "Nickel & Dime Tour" by locals, the route is a favorite of motorcycle riders. Along the way are parks with outdoor activities, Colonial plantations and Civil War battlefields.
The first point of interest along Route 5 is the Ft. Harrison Unit of the Richmond National Battlefield. Near the turn-off to Ft. Harrison is the Varina BBQ, a roadside stand with a big sign to welcome motorcycles. The nearby Virginia Bicycle Trailhead offers benches and picnic tables.
At this point, the traveler goes through undisturbed Virginia woodlands, where early landowners established their plantations on grants from the British crown in the 1600s and 1700s. There are five well-known plantations on Route 5: Shirley Plantation and Upper Shirley Vineyards, Berkeley Plantation, Sherwood Forest, Evelynton (not open to the public) and Westover. North Bend, a smaller plantation house, is also a bed and breakfast.
Ready for lunch? There are two lunch spots on Route 5. The first is Indian Fields Tavern, an American Bistro in a rustic farmhouse. It features fresh seasonal seafood, local produce and craft beer. The second lunch spot is Cul's Courthouse Grill, located in an old general store. Cul's features sandwiches, salads and cold beer.
Next on Route 5 is the 140-acre Chickahominy Riverfront Park with 120 camp sites, playgrounds, two pools, a launch site for canoes and kayaks, boat rentals and a 290-foot lighted fishing pier.
Soon, those following the Nickel & Dime Route will turn right on Greensprings Road (Rt. 614) to Rt. 31 toward Jamestown. The Jamestown-Scotland Ferry, operated at no charge by the Virginia Department of Transportation, will take travelers across the James River to Surry, a riverside community chartered in 1652. Passengers waiting for the ferry can see ospreys nesting by the wharf. They can look back towards Jamestown to see replicas of the early sailing ships which brought English colonists to America in the 1600s and forward to Surry County, where other colonists established rural estates: Bacon's Castle, Chippokes Plantation (now a state park) and Smith's Fort Plantation.
Debarking from the ferry, stay on Rt. 31. The Surry Seafood restaurant is located to the right on Gray's Creek off the James River. Just beyond the restaurant is Smith's Fort Plantation (c 1765). The manor house is built on land given by Chief Powhatan as a dowry for his daughter Pocahontas when she married John Rolfe in 1614.
Stay straight at the stop light in Surry Court House to merge onto Rt. 10. Behind the Court House is a small park with tables, perfect for a roadside picnic.
Also on Rt. 10 at Surry Court House is Edwards Virginia Ham Shoppe, which offers a two-pack of ham rolls, made-to-order sandwiches and other ham delights. Just beyond Edward's, there is a fork in the road. Bear right to stay on Rt. 10 or make a side trip four miles down Route 31 to the Hampton Roads Winery & Vineyards.
Next along Rt. 10 in Prince George County is Bubba's Chikin-N-Thangs, known for its fried chicken, cold beer and homemade cobbler.
From here, you enter the City of Hopewell, situated on 35 miles of historic riverfront, where the Appomattox and James Rivers meet. Travelers who stay here can enjoy year-round water sports, dockside dining and musical entertainment.
While here, try Saucy's BBQ, recognized by Southern Living as one the Top 20 Places in the South for a pork barbecue sandwich. Also on Rt. 10 is the Boathouse restaurant, featuring seafood and a river view.
The renovated art deco Beacon Theatre on Rt. 10 offers live music performances and is home to the Old Dominion Barn Dance. In the spring and summer, there are outdoor concerts at the Hopewell Marina and Weston Plantation, just around the river bend from City Point, dating back to 1613. Civil War buffs will recognize City Point as the site of the headquarters of General Ulysses S. Grant during the Siege of Petersburg in 1864-65 – a scene depicted in the Lincoln movie filmed here in 2011.
From City Point, visitors can return to Richmond on Route 10 or spend the night in Hopewell. For details on accommodations, itineraries, outdoor adventure, water sports, food, musical performances and entertainment in Hopewell and Prince George, Virginia, call a tourism advisor at the Hopewell and Prince George, VA, tourism office: 1-800-863-8687.