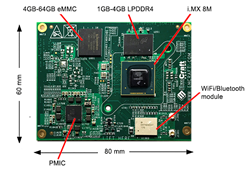 Emcraft's engineers created the schematic design; while PalPilot performed the board layout, PCB fabrication, and leveraged connector options for the board interconnects.
TUSTIN, Calif. (PRWEB) July 02, 2018
In a recent survey from SA DA Systems of expert IT professionals, Internet of Things (IoT) ranked as a primary focus for enterprise investments in new technology leading into 2020. As companies continue to invest heavily into IoT applications, it is no wonder that 67% of respondents ranked IoT as the most popular technology currently used in 2018. PalPilot is no stranger to IoT technologies, following closely to provide innovative solutions to this industry.
PalPilot has partnered with Software & Hardware developer, Emcraft Systems, to deliver a vertically integrated reference design for NXP's newly announced i.MX 8M processor. Emcrafts's engineers created the schematic design, as well as U-Boot and Linux software porting. While PalPilot performed board layout, PCB fabrication, and leveraged connector options for the board Interconnects. The result is a Superior Reference Starter Kit that satisfies the needs of IoT connected device companies.
The project came to life when Emcraft learned of PalPilot's ability to perform the highest quality PCB layout – that considered both high speed signaling – as well as overall manufacturability and cost; since the reference design is to be used by many companies as a design starting point. PalPilot's expert layout team and extensive experience in PCB manufacturing delivered just that. In addition, PalPilot's extended connector and cable product lines were designed in to complete the kit. Backed by a strong team of engineering experts, PalPilot provides unparalleled solutions that support Emcraft's SOM product offerings. Together, Emcraft and PalPilot represent a strong design and manufacturing partnership.
For additional information, please reach us at contact@palpilot.com. You can also find information on our web site at http://www.palpilot.com
World Class Engineering and Manufacturing: All PalPilot products are designed and manufactured to meet industry standard performance specifications and are RoHS compliant. Safety critical components are designed to meet applicable UL standards which employ the use of materials listed under PalPilot's UL Insulation System. For standard product details please refer to online data sheets. Our team recognizes the importance of supply and demand; each task is carefully executed. The significance of our component supply chain demonstrates our ability to adapt to the ever-changing dynamics of the electronics industry. Learn more about our Component Supply Chain service.
About PalPilot: PalPilot International Corporation, a global company with manufacturing in Asia and business offices in the US and EU. With 20+ years of experience, PalPilot has proved itself to be a valuable asset in the core industries of PCB Engineering, Manufacturing, and Components. "Pal" embodies the value of strong customer and partner relationship and recognition; "Pilot" demonstrates our forward drive as a supply and demand solution leader.