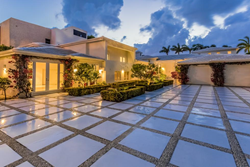 Where Real Estate Is Never Boring
Pompano Beach, Florida (PRWEB) June 29, 2018
"Top 10 Real Estate News"
"America's Best Beach Towns"
According to a WalletHub analysis of over 50 factors ranging from housing costs to water quality and number of waterfront homes, Florida has 5 of the top 10 U.S. beach towns and 4 more ranked in the top 20. Lahaina, Hawaii was ranked #1 followed by Naples, Florida #2, and Sarasota, Florida at #3.
"Pete & Ariana's New York Apartment"
According to TMZ, pop star Ariana Grande and 'Saturday Night Live' comedian Pete Davidson are living in one of Zaha Hadid's designed buildings in Manhattan's Chelsea neighborhood. It is not clear whether the newly engaged couple are renting or buying the $16 million apartment. Hadid is the first female winner of the Pritzker Architecture Prize. She died in 2016.
"Muhammad Ali's Michigan Farm For Sale"
Muhammad Ali's longtime Michigan farm is for sale at a very specific price. The last two numbers represent Ali's 37 career knockouts - $2,895,037. Ali bought the 81-acre property in Berrien Springs in 1975 and spent his summers and some of his retirement years there until his Parkinson's disease became more advanced and he moved to Arizona. Structures on the property include the main house, carriage house, pool, garages, barns and office epicenter. The elaborate gym has a boxing ring in the center, exercise equipment, a steam room, baths, massage room, laundry and spa.
"Cindy Crawford's Malibu Beach House"
Cindy Crawford and her husband, Randy Gerber (George Clooney's tequila business partner), have sold their Malibu beach-bluff house for $45 million. They put the 5,300-square-foot home with tennis court, pool and path from the bluff to the beach on the market two years ago at $60 million, later reduced to $50 million.
"Millions of Households Still Underwater"
According to Bloomberg, a decade after the collapse of the housing market, about 4.5 million U.S. home owners are still under water and owe more than their homes are worth. Over 700,000 owe more than twice their home's current value. Hardest hit areas are Virginia Beach, Baltimore, Chicago and Washington D.C.
"Higher Taxes Drive Higher Florida Prices"
With higher taxes in northern U.S. states such as New York, Illinois, Massachusetts and Connecticut, more people are moving to no-state-income-tax Florida and driving up the price of luxury properties. According to Realtor.com, prices of Florida luxury condos and homes, defined as the top 5% of the market, are up 19% in the Sarasota area, 14% in Naples and about 9% in Fort Lauderdale.
"Oprah Gets Another House"
Oprah Winfrey collects all kinds of homes all over the United States. She has or had several fancy condos in Chicago, a farm in Indiana, a home in Hawaii, an equestrian estate in California, a mountain home in Colorado and her latest purchase of a 43-acre estate on Orcas Island near Seattle. She reportedly paid $8.275 million for her newest home.
"Michael Phelps House & Pool For Sale"
Michael Phelps has listed his Arizona home for $4.1 million. The 6,000-square-foot, ranch-style home includes five bedrooms and seven baths along with a 350-bottle wine room, marble countertops and
limestone fireplaces. Phelps bought the Paradise Valley home in 2015 for $2.5 million.
"Shakira Relists Miami Contemporary"
Pop singer and former 'Voice' judge Shakira spends most of her time in Europe these days, so she is selling her Miami Beach home she bought in 2001. With 8,400 square feet and views of the Miami skyline, the six-bedroom, nine-bath home on half an acre near Miami Beach's oceanfront luxury condos is on a street that has been home to a number of celebrities including Cher, Matt Damon, Billy Joel and Jennifer Lopez. This is Shakira's second attempt at a sale having previously listed the home at $13 million and $14 million; she is now asking $11.6 million.
"Ben Affleck's Big House"
Ben Affleck's island vacation home off the coast of Georgia is for sale at $8.9 million. The compound includes the 6,000-square-foot, plantation-style Big House; 10,000-square-foot Oyster House, which is a more casual place with six bedrooms and bunk beds built from salvaged merchant ships; and the Summer House handy for cookouts and hanging out. The estate is located on 87 acres on Hampton Island overlooking North Newport River.
Visit TopTenRealEstateDeals.com for more historic, spectacular and celebrity homes and real estate news.