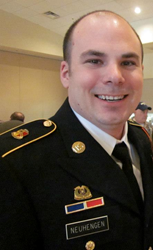 We are thankful that the Appellate Court ruled that an employer can indeed be held accountable for recklessly hiring or recklessly failing to train employees. The law, as set forth by the First District in this case, will continue to keep people safe."
CHICAGO (PRWEB) June 28, 2018
The Illinois Appellate Court First District has ruled an Iraq War Veteran who was struck and run over by a forklift at McCormick Place Convention Center in Chicago, Illinois will finally receive the $15.2 million he was awarded during a 2015 trial. The decision was announced on June 28, 2018, nearly three years after defense attorneys filed post-trial motions appealing the verdict.
On September 18, 2012, 33-year-old Thomas Neuhengen of Cudahy, Wisconsin was working as a spare parts manager for Hermle Machine Co. LLC, helping with the tear down of the company's booth from the International Manufacturing Technology Show (IMTS) at McCormick Place. Mr. Neuhengen's left foot was run over by a 58,000 pound 40/60 Versa Lift forklift. As a result of the accident, Mr. Neuhegen suffered a de-gloving injury to his left foot, requiring a number of surgeries.
Mr. Neuhegen is a staff sergeant in the Wisconsin Army National Guard and prior to the incident served two tours of duty in Iraq.
During a two week trial in August of 2015, Mr. Neuhengen's attorneys argued the forklift driver, Frederick Neirinckx, failed to keep a clear view of the path of travel, failed to maintain a proper lookout and failed to use a spotter. Additionally, Global Experience Specialists, the company that set up the trade show and hired Mr. Neirinckx, did not have a policy in place to make sure forklift drivers were trained and evaluated three-years prior to the 2012 IMTS. The company also failed to assign a three-person crew to the 40/60 Versa Lift. Global Experience Specialists was cited with four safety violations by the U.S. Occupational Safety and Health Administration.
On August 27, 2015, A Cook County jury awarded Mr. Neuhengen $12,228,068 in compensatory damages on the negligence claims and $3,000,000 in punitive damages. The verdict was obtained by attorneys Patrick A. Salvi II, Patrick A. Salvi, Jeffrey J. Kroll and Aaron D. Boeder of Salvi, Schostok & Pritchard P.C. Robert G. Black of Law Offices of Robert G. Black assisted with the appeal. Patrick A. Salvi II presented oral argument in the Appellate Court on behalf of Mr. Neuhengen.
Following the trial, GES filed post-trial motions and a request for a new trial, arguing the plaintiff's attorneys failed to prove GES's willful and wanton conduct. The trial court upheld the compensatory damages but granted the Defendants' motion as to punitive damages, resulting in the $3,000,000 punitive damages amount being stricken.
On June 28, 2018, the Illinois Appellate Court First District affirmed the trial court's decision to deny a motion for a new trial and the defendant's request for a remittitur on the compensatory damages. The Appellate Court reinstated the punitive damages, finding the Plaintiff did provide sufficient evidence to support the jury's award that willful and wanton conduct by Defendant, GES, was a proximate cause of Mr. Neuhengen's injuries.
"Given this evidence, we cannot say that the jury's assessment of compensatory damages resulted from passion or prejudice or bears no reasonable relationship to the loss suffered by the plaintiff…. We reinstate the jury's verdict and the award of $3 million in punitive damages against GES," the court document stated, in part.
For more information or editorial materials, please contact Salvi, Schostok & Pritchard's Director of Public Relations, Marcie Mangan, at (312)-372-1227 or mmangan(at)salvilaw.com.
[THOMAS NEUHENGEN, Plaintiff v. GLOBAL EXPERIENCE SPECIALISTS, INC., a Nevada Corporation; and FREDERIC NEIRINCKX, Individually, Defendants. Case No. 12 L 011854]