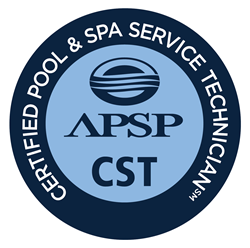 "Having our online learning in this new format is a game-changer for APSP University and our students," said APSP President & CEO, Lawrence Caniglia." "Through this new era in APSP University education, we are giving students what they demand and working towards a more educated workforce."
ALEXANDRIA, Va. (PRWEB) July 12, 2018
The Association of Pool & Spa Professionals (APSP) announced today the availability of its new and improved CST Certified Pool & Spa Service Technician online self-paced course.
Designed for individuals with 1-2 years of experience in pool and spa service repair, the CST course takes students through the APSP Service Tech Manual and gives them what they need to know to conform to industry standards. The course provides a solid foundation for students to advance their knowledge about servicing pools and spas and gives them tips and tricks to troubleshoot common problems. Students can earn their CST certification or sit for the CSP Certified Pool & Spa Service Professional exam, by taking an online self-paced or live on-site course at a regional event. Those that successfully complete the course can take the exam either on a computer at a local PSI testing center or a paper exam at a regional event.
"The benefits of online training courses are well-known throughout the industry, said APSP Education Director, Silvia Uribe."  "Employees who are current in their fields are more likely to be happy and remain loyal to your organization. By providing access to online training that is available anytime, anywhere, with self-paced learning modules, you can help your employees reach their professional goals and enhance their performance while improving your bottom line. Online training can also help your employees identify areas of strengths and self-improvement allowing them to become more informed advocates for your brand."
Students now have the option to take the full CST course or purchase specific module options such as safety, business practices, water quality, structures and finishes and much more. The new self-paced online format teaches new skills while providing a more interactive and engaging training experience using videos, interactive exercises and knowledge quizzes.
"Having our online self-paced learning in this new format is a game-changer for APSP University and our students," said APSP President & CEO, Lawrence Caniglia." "Through this new era in APSP University education, we are giving students what they demand and working towards a more educated workforce."
In addition to the CST online self-paced course, APSP recently released the following courses in a new and improved online format: CMS Certified Pool & Spa Maintenance Specialist course, CHTT Certified Pool & Spa Hot Tub Technician course and has introduced the new online hybrid PPSO Professional Pool & Spa Operator course. APSP plans to release their PSCC Pool & Spa Construction Course in this new format by August 2018.
Students can purchase the course at APSP.LearnUpon.com. The full course is $573 for members and $723 for nonmembers or specific modules at $49 for members and $99 for nonmembers. Those that successfully complete the course will earn 24 continuing education credits. For more information about the online CST course, email APSP University at apspuniversity@apsp.org or call Ana Hernandez at 703.838.0083 ext. 121.