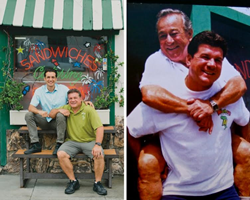 "He just wanted everyone to eat and leave happy," said Paul Mance about his father "Mickey."
HERMOSA BEACH, Calif. (PRWEB) July 10, 2018
Mickey's Italian Delicatessen & Liquor Store in Hermosa Beach, Calif., has been inducted into the Pizza Hall of Fame, which celebrates America's oldest and most beloved pizza restaurants.
Created by PMQ Pizza Magazine, the world's authority on pizza, the Pizza Hall of Fame, located at http://www.PizzaHallofFame.com, pays tribute to the rich cultural history of American pizza and honors the perennially popular U.S. pizzerias that have been in business for 50 years or longer.
In 1953, 22-year-old Michael Angelo "Mickey" Mance took a leap of faith and opened his dream business, a deli, market and liquor store serving up Italian faves like pizza and spaghetti.
"With no other pizza places, we sold tons, because no one else had it," explains Paul Mance, Mickey's son and owner of Mickey's. "My dad was a brilliant guy—everything he touched turned to gold. Even if kids came in with no money, he'd give them a sandwich. He just wanted everyone to eat and leave happy."
Celebrating 65 years last spring, the business is obviously doing a lot of things right—and, yes, still looking to grow, tweak and possibly expand in the future. But some founding principles have never become passé: taking care of customers and employees (many of whom have worked at Mickey's for decades) and always putting the business first.
Conceptually, the Pizza Hall of Fame has existed for nearly 10 years, since PMQ publisher Steve Green inducted Lombardi's Pizza in New York on November 1, 2005. The Pizza Hall of Fame website was launched in October 2014 as part of National Pizza Month. All inductees have been featured in the "Pizza Hall of Fame" section of PMQ's print magazine.
"Pizza is such an integral part of the American experience," Green said. "We wanted to commemorate its role in our culture. Every pizzeria in the Pizza Hall of Fame—and each one that will be inducted in the future—is a local landmark. These pizzerias are more than restaurants—they are institutions in their communities."
Visit http://www.PizzaHallofFame.com to learn more about this story and others in the Pizza Hall of Fame. For more information about PMQ Pizza Magazine, visit http://www.PMQ.com.