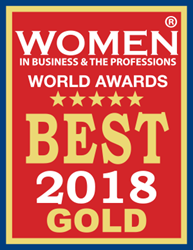 This award is a testament to Motive's commitment to emboldening female leadership in the mobile marketing space.
SAN DIEGO (PRWEB) July 03, 2018
Shauna Son, Motive Interactive's Director of Operations, has been announced as one of the winners in the prestigious Women World Awards® in the Women Helping Women category. The coveted annual Women World Awards program encompasses the world's best in leadership, innovation, organizational performance, new products and services, and milestones from every major industry in the world.
More than 80 judges from a broad spectrum of industry voices from around the world participated and their average scores determined the 2018 award winners. Winners will be honored in San Francisco on Monday, July 30, 2018 during the annual SVUS Red Carpet Awards Ceremony Dinner.
Son has played an integral role in the growth and development of Motive's team, leading the operations division and account management team, where she oversees the launch and optimization of all user acquisition campaigns. She has been recognized for her commitment to supporting other female professionals in the male-dominated mobile marketing and technology industry.
"It's an honor to be named a winner by the Women World Awards for supporting other female professionals," said Shauna Son. "This award is a testament to Motive's commitment to emboldening female leadership in the mobile marketing space."
About the Women World Awards
Women World Awards are an annual industry and peer recognition program honoring women in business and the professions and organizations of all types and sizes in North America, Europe, Middle-East, Africa, Asia-Pacific, and Latin-America. The Annual Women World Awards is part of the SVUS Awards® recognition program from Silicon Valley in the United States of America which also includes other programs such as CEO World Awards, Consumer World Awards, Customer Sales and Service World Awards, Golden Bridge Awards, Globee Awards, Info Security PG's Global Excellence Awards, Network Products Guide's IT World Awards, Pillar World Awards, and PR World Awards. Learn more about The Women World Awards at http://www.womenworldawards.com.
About Motive Interactive
Motive Interactive is a global mobile app marketing company that combines over 15 years of experience in the digital marketing industry and sophisticated programmatic technology to drive user acquisition for some of the world's top mobile app companies. In 2017, Motive was recognized as part of Inc. 5000's exclusive Hall of Fame list for its five-year consecutive rating as one of the fastest-growing private firms in America. Motive has been named a Top Partner by industry rankings for the top-performing mobile media sources, including Singular's Mobile ROI and AppsFlyer's Performance Indexes.
For more information about Motive, visit http://www.motiveinteractive.com.