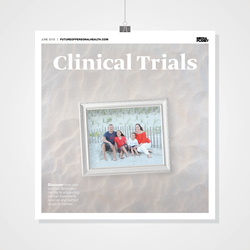 Her compassion combined with her professionalism and the passion that she brought to CISCRP has inspired so many people.
NEW YORK (PRWEB) June 29, 2018
Today, Mediaplanet announces the launch of this June's edition of "Clinical Trials." This campaign will showcase innovative work and medical research, as well as highlight the heroes who are dedicating their lives to advancing cancer treatments. This campaign will honor Rachel Minnik, wife and mother of two who dedicated her life to advancing cancer treatments while battling stage IV cancer.
Through this public awareness campaign, we aim to foster dialogue among research institutions, patients, and the general public about the importance of clinical trials for patients and for finding potential new therapies.
There are currently over 22,000 active cancer clinical trials in the US who are enrolling patients or preparing to recruit participants. However, very few adult cancer patients join a trial, and one-in-five cancer clinical trials aren't completed because not enough people participate. Without enough patient data, a promising treatment might never get approved. Now more than ever, we must increase the public's understanding of the benefits of clinical trials.
The print component of "Clinical Trials" is distributed within this weekend's edition of USA Today in New York, Chicago, Philadelphia, Phoenix, Houston, Seattle, and San Francisco markets, with a circulation of approximately 250,000 copies and an estimated readership of 750,000. The digital component is distributed nationally, through a vast social media strategy, and across a network of top news sites and partner outlets. To explore the digital version of the campaign, click here.
Medical hero Rachel Minnik and family grace the cover of the print publication. Diagnosed with stage II breast cancer in 2013, Minnik fought back fiercely against the disease with a double mastectomy, chemotherapy and radiation. She participated in a clinical trial and she worked tirelessly to educate others about their treatment options and the clinical research process.
"Rachel was always pro-research, pro-clinical trials," says her husband, Pete Minnick. "She always had that mindset 'we're on the cutting edge of medical breakthroughs and technology,' and she wanted to be on that cutting edge."
Ken Getz, founder of CISCRP, reflects on Minnick's lasting impression, "Her compassion combined with her professionalism and the passion that she brought to CISCRP has inspired so many people – those who reported to her, those who she mentored, and those with whom she collaborated. That will stay with us forever. She truly helped to define our culture and evolve it in such meaningful ways."
This campaign was made possible with the support of CISCRP, Bioclinica Research, Medrio, Merck, TransCelerate, WCG, Clinlogix, GlobalCare Clinical Trials, American Society for Radiation Oncology (ASTRO), American Society of Clinical Oncology (ASCO), and Stand Up To Cancer.
About Mediaplanet
Mediaplanet specializes in the creation of content marketing campaigns covering a variety of industries. We tell meaningful stories that educate our audience and position our clients as solution providers. Our unique ability to pair the right leaders with the right readers, through the right platforms, has made Mediaplanet a global content marketing powerhouse. Our award-winning stories have won the hearts of countless readers while serving as a valuable platform for brands and their missions. Just call us storytellers with a purpose. Please visit http://www.mediaplanet.com for more on who we are and what we do.
Press Contact:
Sarah Wasser
sarah.wasser(at)mediaplanet(dot)com
(646) 979-2831