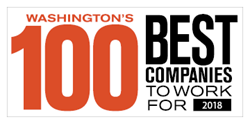 Positivity, respect and the freedom to create are at the core of our Highspot culture.
SEATTLE (PRWEB) June 29, 2018
Highspot, powering modern businesses with the industry's highest-rated sales enablement platform, was named one of Washington's 100 Best Companies to Work For in the 29th annual ranking compiled by Seattle Business magazine. As a first-time entrant, Highspot debuted in the top 5 of the midsize companies category.
"Positivity, respect and the freedom to create are at the core of our Highspot culture," said Robert Wahbe, Highspot co-founder and CEO. "We're incredibly fortunate to have built a team of people who inspire each other to be the best versions of themselves and give their all every day. With such talent and an environment that fuels innovation, the possibilities are endless."
To determine the winners, over 77,000 Washington state employees were asked in detail what they think about their workplace.
"The vast number of companies that participate in the in-depth, direct-to-employee survey process never make the list," Michael Romoser, associate publisher of Seattle Business magazine, said. "For the ones that do, it is a remarkable achievement and testament to their fostering inclusive, engaged work environments."
Highspot employees celebrated with more than 1,200 attendees at an awards gala on June 28, 2018, at the Washington State Convention Center. KIRO-TV news anchor and Seattle Seahawks radio broadcaster Steve Raible served as master of ceremonies.
The full list of winners is available at http://www.seattlebusinessmag.com and will be featured in the July issue of Seattle Business magazine.
About Highspot
Highspot gives businesses a powerful sales advantage to engage in more relevant buyer conversations and achieve their revenue goals. Through AI-powered search, analytics, in-context training, guided selling, and 50+ technology integrations, the Highspot platform delivers enterprise-ready sales enablement in a modern design that sales reps and marketers love. Using Highspot, sales teams can quickly find the best-performing content, and customize it for each opportunity—while marketers gain insights on content use and effectiveness to develop a data-driven strategy. With 90 percent average monthly recurring usage and global support in 125 countries, Highspot is the most trusted solution for sales enablement. Learn how Highspot helps businesses modernize their sales and marketing at: http://www.highspot.com.
About Seattle Business
Seattle Business is an award-winning monthly magazine read by thousands of business executives across the state. It delivers insight into the key people, enterprises and trends that drive business in the Pacific Northwest, providing perspective on the region's ever-changing economic environment.