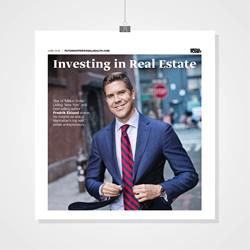 At the beginning of my career, I was very alone. I had left my family and I was working by myself on the other side of the world.
NEW YORK (PRWEB) June 29, 2018
Helping to provide readers with valuable industry insight, Mediaplanet today announces the launch of this June's edition of "Investing in Real Estate." This campaign will serve as a guide for readers looking to enter the world of real estate or readers looking to earn passive income, giving them the financial freedom they deserve while still pursuing their careers.
Real estate is an ever changing and evolving industry that has adapted in many ways, especially over the last decade. Within the past ten years, the market has witnessed an exponential growth in tech startups looking to change the way the industry operates. Globally, the number of startups rose from 176 in 2008 to 1,274 by 2017. In the same period, cumulative investments in these startups soared from $2.4 billion to $33.7 billion. Even with all these changes in a market that offers little certainty and immense potential, investing in real estate has been a tried and true way of earning passive income and early retirement. However, now more than ever, being successful in the real estate market requires new and experienced investors to expand their knowledge in all areas of the industry from property management, to financing, to sustainable buildings.
The print component of "Investing in Real Estate" is distributed within today's edition of USA Today in New York, San Francisco, Houston, Denver, Boston, Florida, and the Carolina markets, with a circulation of approximately 250,000 copies and an estimated readership of 750,000. The digital component is distributed nationally, through a vast social media strategy and across a network of top news sites and partner outlets. To explore the digital version of the campaign, click here.
Top Douglas Elliman Broker and Bravo TV's "Million Dollar Listing" star Fredrik Eklund graces the cover of the print publication. Through an exclusive interview on the interior, Fredrik reveals the ups and downs of the industry. "At the beginning of my career, I was very alone. I had left my family and I was working by myself on the other side of the world. The highs were high, and the lows were low. Now I have built a team and have a family and kids. You have to surround yourself with people that support you. The industry can be very stressful; there are a lot of surprises, and often, they're bad surprises. You have to learn to pick yourself up and keep going. There's a lot that you can't control, but if you can manage to go to bed every night feeling like you worked your hardest and did all that you could, you'll succeed."
Now, more than a decade later, he's one of Manhattan's top real estate entrepreneurs, with more than $5 billion in residential sales over the past decade. In 2011, he became a reality television superstar on "Million Dollar Listing: New York," and later, a New York Times best-selling author with the book "The Sell: The Secrets of Selling Anything to Anyone."
This campaign was made possible with the support of the National Association of Realtors, Brandon Turner of "BiggerPockets", J. Massey of Cash Flow Diary, the CREW Network, the International WELL Building Institute, Stefan Aarnio, the Mortgage Bankers Association, Fredrik Eklund, Douglas Elliman, Legacy Alliance Education, Lifestyles Unlimited and Griffin Capital.
About Mediaplanet
Mediaplanet specializes in the creation of content marketing campaigns covering a variety of industries. We tell meaningful stories that educate our audience and position our clients as solution providers. Our unique ability to pair the right leaders with the right readers, through the right platforms, has made Mediaplanet a global content marketing powerhouse. Our award-winning stories have won the hearts of countless readers while serving as a valuable platform for brands and their missions. Just call us storytellers with a purpose. Please visit http://www.mediaplanet.com for more on who we are and what we do.
Press Contact:
Kim Betrus
kim.betrus(at)mediaplanet.com
(646) 922-1412