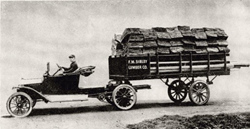 Concours Visitors on Sunday, July 29, cannot miss MHC's Booth, as they pass through "Vendor Valley" before entering the main Concours Vehicle-display grounds.
WARRENDALE, Pa. (PRWEB) July 02, 2018
The MHC is pleased to be involved in The 40th Concours d'Elegance of America (http://www.ConcoursUSA.org).
Concours Visitors on Sunday, July 29, cannot miss MHC's Booth, as they pass through "Vendor Valley" before entering the main Concours Vehicle-display grounds.
At the Booth will be the world's first semi-trailer, built by Detroit blacksmith, August Fruehauf in 1914.
August coined the phrase "semi-trailer", when he converted a wagon into a trailer to haul a boat using a Model-T Ford. The Fruehauf Trailer company was founded four years later in 1918 and became the world's largest and most dominant manufacturer of semi-trailers for nearly a century.
The trailer on show is paired with a rare 1913 Smith Form-A semi-truck adapted from a Model-T Ford. Model-T's were used for many commercial applications, including postal delivery, hearses, snowmobiles and many other uses.
This unique truck and semi-trailer can also be admired at the Concours Truck Night on Saturday, July 28, from 6-9 p.m.
For more information please visit: http://www.singingwheels.com; http://www.automotivehalloffame.org/honoree/august-fruehauf/;
https://www.immigrantentrepreneurship.org/entry.php?rec=253
August Fruehauf 2017 inductee into the Automotive Hall of Fame. Originally shown at the 2017 Induction and Awards Ceremony. https://www.youtube.com/watch?v=FQHY5tcA6EI&t=45s
The MHC's main annual event is SAE International WCX World Congress Experience in Detroit.
At the April 2018 SAE WCX, the MHC display focused on the "History of the Future", featuring nine historic vehicles, whose innovations paved the journey towards today's Autonomous Vehicles.
The SAE WCX 2019 "History of the Future" exhibit will be built around the theme of "Propulsion".
MHC also has participated at the Chrysler Employees Motorsport Assn. festival in Auburn Hills on June 9 and at the Eyes on Design car show at the Grosse Pointe Ford Estate on June 17.
The MHC collaboration with the Historic Vehicle Association continues, with HVA members' cars prominent at The Concours.
Valued MHC supporters are SAE's Detroit Section, with nearly 9,000 members (the largest SAE Section) and the very active Mid-Michigan Section whose programs include vehicle events, technical meetings, factory and museum tours and networking gatherings.
All SAE Sections support SAE Student Chapters at local Universities, whilst individual members volunteer at schools, helping teachers apply SAE's award-winning "A World in Motion" educational programs for K-12 students.
At all these events, MHC's activities promote SAE Membership, SAE's Education Programs and the work of the SAE Foundation.
For information on joining SAE International and MHC, please inquire at the Booth or visit http://www.sae.org.
About SAE International
SAE International is a global association committed to being the ultimate knowledge source for the engineering profession. By uniting over 127,000 engineers and technical experts, we drive knowledge and expertise across a broad spectrum of industries. We act on two priorities: encouraging a lifetime of learning for mobility engineering professionals and setting the standards for industry engineering. We strive for a better world through the work of our charitable arm, the SAE Foundation, which helps fund programs like A World in Motion® and the Collegiate Design Series™.