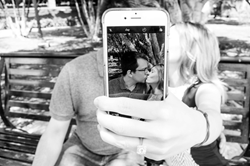 "We really focused on what our members want"
FORT LEE, N.J. (PRWEB) July 02, 2018
MyRegistry.com, the world's leading universal gift registry platform, recently launched its new wedding website feature, giving couples an easy and beautiful way to keep guests in the know about important wedding details.
A natural addition to the company's existing range of useful and convenient registry tools, the innovation means MyRegistry.com is now a one-stop destination for anyone who is planning a wedding.
"Dealing with the stress of planning a wedding is hard enough," says MyRegistry.com President, Nancy Lee. "No couple in full-on pre-wedding mode wants to answer calls from guests asking how to get to the church, where they can stay, etc. The couple needs a personal wedding website where they can share all of those details with friends and family."
That's just what MyRegistry has given soon-to-be brides and grooms – a place to style, customize, and spread the word about everything from the romantic stuff, like how they met and fell in love, to the more practical stuff, like ceremony and venue locations, driving directions, and hotel accommodations.
Personal touches bring each couple's wedding website to life. They can leave a video welcome message, include a wedding hashtag to building pre-wedding excitement, give a shout out to those in the wedding party, and even let guests know what the theme and dress code is for their big day, so Uncle Morty doesn't turn up in black tie for a barn reception.
"We really focused on what our members want," adds Lee. "That's why we provided so many options. Engaged couples can choose to include every detail on their wedding website—or just the key things, the experience is entirely customizable."
About MyRegistry.com
MyRegistry.com is the premier destination for Universal Gift Registry services. The company gives its users the ability to create one centralized registry for any gift-giving occasion. Registrants can add items from any store in the world. They can even sync existing store registries and tastefully register for cash gifts. MyRegistry.com - All stores, One registry.®