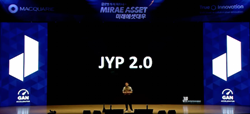 SEOUL, South Korea (PRWEB) June 29, 2018
SparkLabs (http://www.sparklabs.co.kr), Asia's leading startup accelerator and part of the SparkLabs Group (http://www.sparklabsgroup.com), hosted their eleventh demo day in Seoul, Korea on June 21, 2018. Over 2,200 people attended along with approximately 400 investors to see their latest batch of startups graduate.
SparkLabs also partnered with Macquarie, the international diversified financial group, and the Chicago Forum, to create a new innovation week from June 19th through June 22nd in Seoul. The week targeted Macquarie's institutional investor clientele and the Chicago Forum's corporate executive membership.
Tae-Won Chey, Chairman of SK Group (95th largest company on Fortune Global 500), emphasized the importance of corporations creating social value just as much as economic value during his presentation on June 20, 2018. While during SparkLabs DemoDay11, Jin-Young Park, Founder and CEO of JYP Entertainment, announced his company's new strategy which led to his publicly traded company hitting an all-time on June 21, 2018.
These are the eleven companies that presented on June 21, 2018 at SparkLabs DemoDay11:
Fleapop (Seoul)
Fleapop is a retail tech company that provides an experiential marketplace for teens and women in their twenties every two months for two days. Six open market periods in 2017 (over just 9 days of operations) saw over 150,000 people attend. Typically, over 30,000 people attend their sales events. During 2018, they had over 40,000 people show up to each event and had to turn away 15,000 due to police concerns. Fleapop has an incredible amount of mindshare among 14-18 year girls in South Korea.
Enterphin (Seoul)
Enterphin (http://www.enterphin.com) is a "Github of Hardware." The company was established by veteran hardware startup founders. Unlike software, developing hardware is a more troublesome and a delicate process. Enterphin has created what they believe to be the only hardware IDE (Integrated Development Environment) in the market, and seek to make the hardware development process far easier for engineers.
Fluid (San Francisco)
Fluid (http://www.fluid.us) is creating a new content consumption experience for consumers that is seamless and intuitive, while introducing new paths to monetization for publishers.
They are utilizing blockchain technology to bring micro payments of the gaming world to digital publishing. They have already signed up various online media sites that have over 175 million monthly unique visitors and almost 1 billion monthly page views for their launch.
Gint (Seoul)
GINT (http://www.gintlab.com) is Korea's first developer of tractor transmission control units (TCU), and specializing in systems for tractors and construction equipment manufacturers. This startup was founded by experts in automotive engineering from Hyundai Motors and other top technology companies.
GINT provides unattended automation technology for manufacturers, and targeting latecomers within the space to overcome the technology gap. Gint has already partnered with leading companies in South Korea, such as Tongyang Moolsan, Daedong Industrial and SK Telecom.
Muzlive (Seoul)
Muzlive (http://www.muzlive.com) has created a physical kit that connects to the phone via an audio jack, USB-C, or NFC, which they called a "smart kit". This is a modern day "CD/LP" to provide fans with a tangible good of their favorite artists.
They have already been working with SM Entertainment, one of the leading labels in South Korea. In 2018, with their first launch, Muzlive has sold 43,000 of these albums and are already profitable.
ZhenHub (Hong Kong)
ZhenHub (http://www.zhenhub.com) makes global commerce easy by providing a platform that allows users to execute logistics operations with a single click. To provide a full economical logistics solution, ZhenHub pioneered a shared economy within the logistics industry by partnering with 33 under-utilized fulfillment centers across 10 countries.
Established in Hong Kong a little more than a year ago, ZhenHub has been experiencing 18% week-on-week growth in revenue, hitting $122,000 in October 2017 with over 600 platforms users.
Veluga Brewery (Seoul)
Veluga is craft beer curation and subscription service where members are delivered a theme box of hand-selected craft beers and food pairings every month. Recently launched, their 1,200 members have consumed over 10,000 bottles of beer and generated over $100,000 in 8 months without any form of paid marketing.
Perfitt (Seoul)
Perfitt (http://www.perfitt.io) reinvents the dynamics of footwear shopping for everyone. This startup has developed a personalized shoe based in computer vision and deep learning to create the perfect blend of comfort and fashion.
Perfitt's has easy-to-use mobile app with 97% accuracy on foot size measurement solution (both mobile app and in-store device). It has already been tested on 3,000 paid customers and reduced a retailer's return rate to 4.5% while earning a 92% customer satisfaction rating.
Watchbot (Seoul)
Watchbot (http://www.watchbot.co.kr) was established in 2016 with co-founders from Samsung Electronics and Naver. Watchbot is an analytics tool for cryptocurrency investing, and are building the world's first blockchain-based social trading platform.
Watchbot only launched 5 months ago and organically grew to 20,000 users with daily trades hitting a high of US$15 million in volume (only in Korea), and accumulated transactions have grown to over US$1 billion.
BabelTop (Seoul)
BabelTop (http://www.babeltop.net) is a cloud-based platform that provides the latest translation technologies for companies and qualified translators. This company is an on-demand professional translation platform in Asia. They have clients, such as SK Telecom and Samsung, to give them access to 200 registered translators on the platform and a pool of more than 2,000 translators in their network.
Peaches (Seoul and Los Angeles)
Peaches (http://www.one-universe.com) is a rising street fashion brand giving its audience quality media content and products. Rooted in Korea and reborn in LA, where space innovation becomes one universe. Peaches has a strong cultural code in automotive culture, exposing and sharing passion for the love of the vehicle. They are quickly becoming the "Supreme of Korea" with an eye to become its category leader in Asia.
Since June 2017, they have sold out every season. The company has already have completed projects with Nike, BMW, Porsche, and others.
About SparkLabs
SparkLabs is a startup accelerator founded by entrepreneurs for entrepreneurs in South Korea. The focus is on startup companies from the Internet, online gaming, mobile, ecommerce, digital media, and healthcare sectors. The mentorship-driven program will be three months in length and provides funding, office space, a structure program and access to a top-tier network of entrepreneurs, venture capitalists, angel investors and executives. For more information, please visit http://www.sparklabs.co.kr