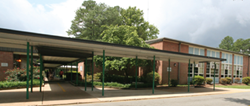 "I'm so grateful for Eduporium's generosity and support as I build my program. I can't wait to get my STEAM classes going this fall." – Melinda Pastuszak, Elementary School STEAM Teacher
WATERTOWN, Mass. (PRWEB) July 10, 2018
In June, Eduporium announced a new educational technology grant program that awards $500 of STEM tools to one recipient every month. Their selection committee met last week and awarded the first grant to Melinda Pastuszak, a teacher at Chamberlayne Elementary School in Henrico, Va. Pastuszak is in the process of planning the launch of a new STEAM program for her students this fall and will be putting her award to good use.
"I'm so grateful for Eduporium's generosity and support as I build my program," she said after being notified about being the recipient of Eduporium's first grant award last week. "I can't wait to get my STEAM classes going this fall."
With her $500 award, Pastuszak decided to request a few different EdTech tools from the Eduporium store. Although everything on the Eduporium store is eligible for grant recipients, she narrowed it down to a Squishy Circuits Group Kit, the accompanying Squishy Circuits Dough Kits, and some MaKey MaKey kits.
Pastuszak already has some big plans for her new STEAM program at CES and she believes these STEAM tools will complement her goals perfectly. Her goal is to use the products in multiple science and social studies projects across various grade levels. Initial plans for the new program's launch include students using MaKey MaKey and Squishy Circuits to build models that represent various concepts, like parts of a flower and historic figures, and allow them to see firsthand how conductors and insulators work.
"I know that my students are going to be so excited to use both MaKey MaKey and Squishy Circuits to explore and create in the classroom," she said.
She also added that her excitement is due, in large part, to being able to use each of these tools in a cross-curricular way. She's hoping to engage her students on deeper levels by giving them the tools to build interactive models of significant events from both American and world history. Ultimately, Pastuszak wants her students to see that coding is something that is applicable in a lot of different ways, especially as they prepare for their futures.
"They're really going to be able to take ownership of their learning by incorporating the ideas of STEAM," she said.
Pastuszak is entering a year of "STEAM firsts," with her school system really making an effort to expand STEAM education by creating 15 new positions, including hers. She and her team will be working with each student in the school for at least 45 minutes per week and she'll also contribute to writing curriculum and engaging her community. With the technology awarded to her as part of Eduporium's grant program, Pastuszak believes she's well on her way to making an impact on her students' futures.
Eduporium's monthly $500 technology grant program is open to all educators and they are currently accepting applications for the July award up until July 20th. To learn more about the program and to submit an application, anyone interested can do so here.