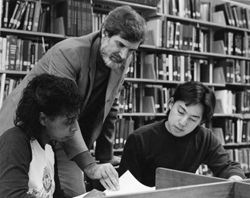 CARSON, Calif. (PRWEB) July 02, 2018
California State University, Dominguez Hills (CSUDH) has received a $1.725 million legacy gift from Professor Emeritus of Political Science Lyman Chaffee, who passed away April 27, 2018. The bequest will be used to establish the L.G. Chaffee Endowed Chair of Global and Comparative Politics, the first endowed chair position in the university's history.
Chaffee's gift, the largest given to CSUDH by a faculty member, also specifies $100,000 to endow a scholarship for political science majors to study abroad; a $25,000 contribution to the Del Amo Scholarship that provides students scholarships to study in Spain; and $100,000 to CSUDH's Office of International Education toward its general endowment for scholarships for students studying abroad.
"In my years as president, what has stood out to me most about this campus is its strong sense of community. This gift is a testament to that dedication, to the commitment our faculty and staff have to our mission and the students we serve, and is a selfless expression of what it means to be a Toro," said CSUDH President Willie J. Hagan. "Many of our alumni can attest to the zeal and passion Dr. Chaffee displayed each day, as will many of our students value his kindness and generosity for years to come."
Chaffee, a resident of Hermosa Beach, joined the CSUDH 1969 and retired in 2005. During his more than 30 years as a member of the Department of Political Science,
Chaffee served as department chair for several years and was honored with the university's Outstanding Professor Award for his commitment to students. He was highly respected among his colleagues and university administration throughout his tenure.
Chaffee was an expert in international politics with a particular focus on South America, Spain, and Portugal. His deep interest in learning about and experiencing other cultures inspired him to travel extensively throughout his life and visit more than 70 countries. He regularly shared his love of travel with his students. For a number of years, Chaffee served as director of CSUDH's International Programs and as resident director of the CSU International Programs study abroad option for Spain.
"When he was young, Lyman spent a year in Spain that had a real impact on him. It introduced him to the many benefits of international relations and travel and how important it is for students to experience it, particularly those interested in politics," said Marta Stang, Chaffee's sister. "That first trip to Spain continued to influence him and led to his conviction that student travel not only broadens a person's understanding of the world, but also the issues faced by different countries and their cultures. This resulted in his endowment of a chair in the Political Science Program, as well as funds for students to study abroad."
About California State University, Dominguez Hills
California State University, Dominguez Hills, centrally located in the greater Los Angeles South Bay region, is a model urban university with a wide range of academic programming, providing accessible, high quality, and transformative education to students aspiring to succeed and thrive in a complex, global society. Since 1960, CSU Dominguez Hills has served a diverse community of learners and educators collaborating to change lives and communities for the better. A national model and laboratory for student success, the university offers a proven path to opportunity and social equity, advancing a college-focused culture in the communities it serves while providing vital resources of knowledge, talent, and leadership to the greater Los Angeles region and beyond. Today, CSU Dominguez Hills boasts over 100,000 alumni – doctors, scientists, engineers, educators, entrepreneurs – who are leaders in education, health, technology, entertainment, public service, and business, making a difference in their fields, in people's lives, and in their communities. For more information, visit http://www.csudh.edu.