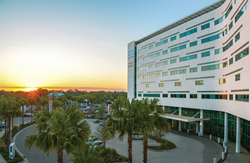 SARASOTA, Fla. (PRWEB) July 02, 2018
Sarasota Memorial Health Care System's heart program is the first in Florida and fourth in the nation to receive the American Heart Association's Cardiovascular Center of Excellence accreditation, a comprehensive level of designation for cardiovascular care.
"Reaching this highest level of accreditation demonstrates your exemplary dedication and commitment to cardiovascular excellence in your communities," Michele Bolles, national vice president of Quality & Health IT for the American Heart Association, stated in a notification letter to SMH today. "Your cardiovascular team was required to demonstrate excellence in cardiovascular care, including early patient and community engagement, external support, and scientific, evidence-based, guidelines-driven care during critical health events when patients needed you the most. This is the epitome of a true System of Care."
As an accredited Cardiovascular Center of Excellence, Sarasota Memorial's cardiac team demonstrated that it met or exceeded standards established using multidisciplinary treatment models for all types of cardiovascular patients. The standards include 24/7 cardiovascular services, comprehensive training for all staff caring for this patient population, a strong internal and external systems-of-care approach to deliver services and extensive community outreach to help its population recognize and participate in cardiovascular health.
SMH underwent rigorous reviews by the American Heart Association's accreditation review team. During the reviews, cardiovascular quality improvement specialists reviewed the hospital's policies, procedures and operations to ensure appropriate diagnosis, treatment and education protocols were in place and executed for cardiovascular patients. The facility also had to demonstrate efforts to increase community awareness of the importance of cardiovascular health.
Key areas in which SMH demonstrated its commitment to accreditation-required treatment standards include:

Demonstration of patient and community engagement across the region
Collaboration with community-based cardiologists and clinics to provide smooth transitions of care
Sustained delivery of guideline-driven, evidence-based care
Robust interdisciplinary team that has ownership and empowerment of the program
"The designation is a wonderful testament of the skill and dedication of Sarasota Memorial's entire cardiovascular team," said Sarasota Memorial CEO David Verinder. "They are committed to providing multidisciplinary treatments centered in current scientific research and ensuring the best outcomes for our patients."
The overall goal for the Cardiovascular Center of Excellence accreditation is to improve the outcomes of patients affected by cardiovascular disease. This is accomplished by optimizing the patient and caregiver experiences through a collaborative approach to incorporate best practices founded on established evidence-based cardiovascular treatment guidelines fostered with a systems-of-care approach.
About Sarasota Memorial Health Care System
Sarasota Memorial Health Care System is a regional referral center offering Southwest Florida's greatest breadth and depth of care, with more than 900,000 patient visits each year. Its flagship 829-bed, acute-care hospital has been consistently recognized as one of the nation's largest and best, with superior patient outcomes and a complete continuum of outpatient care – from urgent care, trauma and emergency services to laboratory and diagnostic imaging, home health, skilled nursing and rehabilitation. SMH is the only hospital in Florida to have consistently earned the federal Centers for Medicare & Medicaid Services' highest five-star quality award since the rating system launched in 2016. For information, visit http://www.smh.com.
About the American Heart Association's Cardiovascular Center of Excellence Accreditation
The Cardiovascular Center of Excellence (CVCOE) accreditation offers cardiovascular programs a model to ensure best practices and evidence-based medicine is implemented in a standardized fashion for the delivery of cohesive and consistent multidisciplinary cardiovascular care. The CVCOE Accreditation recognizes facilities with robust foundational programs in Chest Pain, Atrial Fibrillation and Heart Failure. CVCOE standards focus on the areas of Governance, Systems of Care and Clinical Quality For more information about this accreditation, visit http://www.heart.org/cardiacaccreditation.