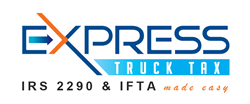 Trucking professionals are the backbone of our economy who provide the entire nation with the convenience of purchasing a wide variety of products
ROCK HILL, S.C. (PRWEB) July 01, 2018
ExpressTruckTax, developed by the leading provider of innovative software solutions SPAN Enterprises, offers a simplified e-filing solution for the trucking industry. The official IRS filing season for Form 2290 or the Heavy Vehicle Use Tax starts today, July 1, 2018.
Owner-Operators and other transportation professionals with a registered heavy highway vehicle must file IRS Form 2290 and receive a stamped Schedule 1 annually to remain operational/tax complaint.
"Trucking professionals are the backbone of our economy who provide the entire nation with the convenience of purchasing a wide variety of products to meet our needs as consumers," said Agie Sundaram, Co-Founder & CEO, SPAN Enterprises. "We understand the important role that truck drivers and the trucking industry have on our ever-evolving economy. We strive to provide top-level US-based customer service to make Form 2290 filing faster and more convenient for the millions of truck drivers on our roads."
The Heavy Vehicle Use Tax (HVUT) Form 2290 season is officially open, with the deadline to file Form 2290 being August 31, 2018. As an authorized e-file provider working closely with the IRS for nine years, ExpressTruckTax offers the most straightforward Form 2290 filing solution on the market today. Transportation professionals to receive the required stamped Schedule 1 within minutes of filing.
ExpressTruckTax, provides transportation professionals with a simplified step-by-step e-filing process with multiple payment options. Those filing Form 2290 can choose between several payment options including electronic funds withdrawal, direct debit, and credit card.
Our innovative online filing features are proven to ensure Form 2290 is free of any fundamental errors before transmitting directly to the IRS, it will undergo an instant internal audit. This encrypted cloud-based software allows trucking professionals to file and pay the Heavy Highway Use Tax with peace of mind.
In addition to filing Form 2290, ExpressTruckTax also offers 2290 amendments, free VIN corrections and form retransmittal for rejected 2290 Forms. Transportation professionals seeking an easier solution to Form 2290 filing can do so over the phone with, ExpressTruckTax's sister product, TSNAmerica. ExpressTruckTax also works alongside ExpressIFTA and TruckLogics to identify the needs and wants of the trucking industry and dedicates its service to providing fast and simple methods for truckers to file their taxes.
About the SPAN Enterprises:
Founded in 2009, SPAN Enterprises leads the market in producing software solutions and mobile applications for truck taxes and trucking business management. The company's mission is to create innovative software solutions for the small businesses and the trucking industry. SPAN Enterprises serves thousands of clients all across the nation from their office in Rock Hill, SC. SPAN Enterprises has been named on the Inc 5000, Charlotte Fast 50, and SmartCEO Future 50. For more information about SPAN Enterprises, visit its website at http://www.spanenterprises.com