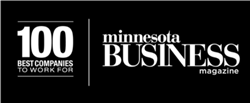 WHITE BEAR LAKE, Minn. (PRWEB) June 30, 2018
White Bear Lake, MN June 28th, 2018 - TitleSmart, Inc., a leading Twin Cities title insurance company, today announced that they have been named one of the 100 Best Companies to Work For by Minnesota Business Magazine. The "100 Best" were voted for in an anonymous online questionnaire filled out by the employees of each company. The questionnaire focused on work environment, employee benefits and overall employee happiness. Not only did TitleSmart rank in the top 100, they were also named Editor's Pick for Supportive Environment. A complete list of those selected is available on the Minnesota Business Magazine website.
The "100 Best" award not only recognizes Minnesota's top companies, but it also year after year helps the winners to attract key employees. Because this award is voted for by the employees and staff of the organization, it helps cement that company as a top place to work for employee satisfaction.
"Being in our 11th year of business we are so thrilled to receive this award," said Cindy Koebele, President of TitleSmart, Inc. "We have built our company on the dedication and loyalty of our staff members and strive to create a happy, healthy and fun place to work while providing our staff with the tools and knowledge to empower them to grow in and outside of TitleSmart."
In the anonymous questionnaire, one TitleSmart employee wrote, "I would never go work for another company. I cannot think of what they can do better but I know that with Cindy leading this company that she is always looking for ways to improve the company."
About TitleSmart, Inc.
TitleSmart, Inc. is a full-service title insurance company dedicated to providing clients with exceptional title, escrow, and real estate closing solutions. From investing in the best systems to adding extra touches like warm cookies, gourmet coffee and branded trinkets to each closing, TitleSmart embraces the mentality that closing on your house should be a positive, fun and upbeat experience. A certified Women's Business Enterprise, TitleSmart was named one of the Inc. 5000 Fastest Growing Private Companies in America in 2014, 2015, 2016, and 2017, one of the Minneapolis/St. Paul Business Journal's Best Places to Work in 2015 and a 2018 Top Workplace by Star Tribune. Cindy Koebele, President of TitleSmart, was also named the 2015 EY Entrepreneur of the Year® for the Upper Midwest region. For more information visit title-smart.com.