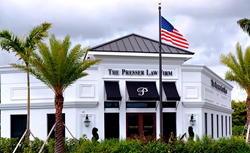 BOCA RATON, Fla. (PRWEB) July 02, 2018
Bankruptcy is increasingly necessary for the financially-troubled individual and company. More than two million individuals and companies file bankruptcy annually; not a surprising statistic once you understand the role of bankruptcy to eliminate debts and protect assets.
In a down economy, more debtors use bankruptcy to protect their wealth. We are a nation of debtors. Too many consumers are overburdened with credit card debts.
Any debtor with serious financial problems should consider bankruptcy. However, bankruptcy isn't always the right answer. Bankruptcy is the answer only when you have too many debts to pay from your future income or from selling your assets. For example, why declare bankruptcy if you earn $100,000 a year and your debts are only $20,000? Short-term financial sacrifice on your part can pay down your excessive debts, and this is certainly preferable to bankruptcy.
If your unsecured debts are less than 60 percent of your net annual pay, avoid bankruptcy. Commit 20 percent of your net pay to pay past creditors. Most creditors will wait two or more years if you show good faith and make systematic payments. Many more will settle for less. Consider bankruptcy only if you cannot completely eliminate your debts within three years.
Bankruptcy may also be necessary to protect your assets. In bankruptcy, all civil actions against you must immediately stop – whether they are lawsuits, IRS claims, seizures, levies, attachments, repossessions or foreclosures. Every creditor must observe the automatic stay of continued legal action imposed by bankruptcy. Bankruptcy provides you the opportunity to resolve your financial problems with creditors who would otherwise seize and sell your assets.
Bankruptcy timing is critical. Debtors frequently file too soon or too late. In either instance, they lose possible benefits from their bankruptcy. Some tips:
1. Collect your tax refunds before you file. Tax refunds due to you when you file will be claimed by your trustee.
2. Don't file bankruptcy too soon after paying a past debt if you want the creditor to keep the payment or the payments may be recoverable by the trustee as a voidable preference. Payments made within two years to relatives or other insiders are also recoverable.
3. If you anticipate future debts, then file after they can be discharged in bankruptcy. An example would be continuing medical costs due to an extended illness.
4. Make certain you owned your home long enough to qualify for homestead protection before you file bankruptcy.
5. Wait to file if you incurred bills for non-essentials. More recent charges are not dischargeable.
Bankruptcy won't extinguish every debt. Debts usually not dischargeable in bankruptcy include: Federal taxes less than three years old and state and local taxes; Child support and alimony; Student loans; Criminal fines and penalties (i.e. restitutions and traffic fines); Liabilities incurred through drunk driving; Withholding tax assessments; Dischargeable debts not listed on your bankruptcy schedules; and Debts incurred through fraud.
Debts not dischargeable in Chapter 7 bankruptcy may be dischargeable or resolved in Chapter 13. The bankruptcy court can also deny the discharge of other debts in Chapter 7 bankruptcy based upon the debtor's inequitable conduct.
Secured debts and liens are dischargeable only to the extent the debt exceeds the value of the secured asset. Bankruptcy eliminates any remaining personal liability. The secured parties' rights become limited to the collateral value and then their rights thereafter become the same as unsecured creditors.
Bankruptcy may be your best option if you are convinced you can't win and can't settle, or if you have few assets to lose in bankruptcy. The mere threat of bankruptcy may be enough to encourage litigants to settle favorably.
Never file bankruptcy without first making every effort to resolve a case without bankruptcy. Bankruptcy should be your last resort, not your first.
Consider all available options before deciding that bankruptcy is truly the right decision for you and your situation. For additional information related to bankruptcy and Asset Protection, read up on the educational materials and resources available our website, AssetProtectionAttorneys.com.
To aid your research further, The Presser Law Firm, P.A. offers complimentary copies of our Asset Protection books. Please visit our website and submit the contact form at the top of the page to request your copy.
Most importantly, before filing bankruptcy, speak to an experienced attorney. To help service your needs, The Presser Law Firm, P.A. offers a Complimentary Preliminary Consultation with one of our experienced Asset Protection Attorneys. Call 561-953-1050 or email Info(at)AssetProtectionAttorneys.com today.