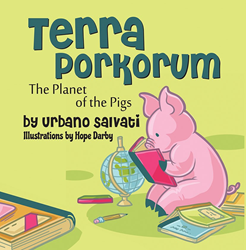 "Kids will 'pig out' reading this delightful story that looks at life from the viewpoint of pigs. We are very proud to be the publisher." - Robert Fletcher, CEO of Strategic Book Publishing and Rights Agency
LAS VEGAS (PRWEB) July 03, 2018
Things are about to change on "Terra Porkorum: The Planet of the Pigs."
In author Urbano Salvati's funny new book, pigs are about the only intelligent life form on the planet Terra Porkorum. The pigs are happy souls and spend their time eating everything they can find. What they don't realize is that they're about to run out of food!
Their good friends, the orangutans, visit often, and tell about some strange beings called humans, who can only walk on two legs. The humans wrap themselves in what they call clothes, and talk about about such things as school, work, cooperation, and how to grow food.
The pigs have never gone to school or worried about getting food before. They learn that they must take care of their beautiful planet, ensure there's enough food for everyone, and they discover the importance of getting an education.
About the Author: Born in Italy, Urbano Salvati currently resides in Las Vegas. Having worked as a chef and culinary educator for 40 years, he now delights young readers with his creative storytelling. He believes true happiness comes from love and from good food. "There is a certain magic about children's stories that I have always loved. I have always dreamed of beautifully written prose that will elicit in readers all of the best that our heart can produce." He dedicates this book to his grandchildren, Shawn and Lucas, "who are my joy and inspiration."
"Kids will 'pig out' reading this delightful story that looks at life from the viewpoint of pigs. We are very proud to be the publisher," said Robert Fletcher, CEO of Strategic Book Publishing and Rights Agency.
TERRA PORKORUM: THE PLANET OF THE PIGS (ISBN: 978-1-946540-69-0) is now available for $13.95 and can be ordered through the publisher's website:
http://sbpra.com/UrbanoSalvati or at Amazon.com or Barnesandnoble.com.
WHOLESALERS: This book is distributed by Ingram Books and other wholesale distributors. Contact your representative with the ISBN for purchase. Wholesale purchase for retailers, universities, libraries, and other organizations is also available through the publisher; please email bookorder(at)sbpra.net.