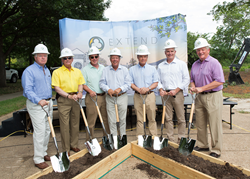 "We are excited to partner with the PCPC community on this important project in order to help them support growing ministry opportunities," said Corbett Nichter, Regional President with AP.
DALLAS (PRWEB) July 03, 2018
Designed by OMNIPLAN and managed by Pritchard Associates, Park Cities Presbyterian Church plans to make improvements to their existing campus to support growing ministry opportunities, provide more meaningful connections within the city of Dallas, accommodate their growing youth programs, and provide an overall welcoming presence in their existing neighborhood. This is one step toward their larger EXTEND vision.
Through renovations to their existing church space and the acquisition of nearly two acres of land connected directly to the church's property, the project will offer new children's ministry space and an early care and education program for the community, new youth ministry space including a full-sized high school gymnasium, new indoor and outdoor community space with an expansive foyer and courtyard, plus a subterranean parking garage and expanded surface parking to increase their on-site parking availability from 157 to approximately 400 total spaces. Overall, the campus expansion will increase their footprint by over 67,000 square feet with an additional 66,982 square feet of renovation work.
The ceremony, which included over 500 attendees, began with a prayer service led by Senior Pastor Mark Davis, followed by a groundbreaking ceremony which took place on a portion of the church's newly acquired land. The ceremony involved speeches and prayer from PCPC Executive Director Jeff Barber and members of the project planning committee, followed by dinner and outdoor games for the children.
"We are really looking forward to construction commencing on our new campus," said Jeff Barber, PCPC Executive Director. "We have spent several years considering how our campus not only provides for our congregation but also how it best contributes to our community and our city. We are so grateful to see how God has led and provided for us."
"We are excited to partner with the PCPC community on this important project in order to help them support growing ministry opportunities," said Corbett Nichter, Regional President with AP. "Our experienced team is fully committed to the success of this project, both for the church community and the surrounding neighborhood."
Construction is scheduled to begin in fall 2018 with an estimated completion date of summer 2020.
About Adolfson & Peterson Construction
Adolfson & Peterson Construction (AP) is a U.S.-based, privately held builder that is consistently ranked among the top 50 construction managers and general contractors in the nation. Headquartered in Minneapolis, Minnesota, the company delivers innovative and collaborative building solutions for clients across the country from its regional offices in Dallas, Denver, Minneapolis and Phoenix. Founded in 1946, AP serves clients in the education, healthcare, commercial, municipal, multifamily, hospitality and senior living market sectors. For more information, visit http://www.a-p.com or follow us on Facebook, LinkedIn and Twitter.
About Park Cities Presbyterian Church
Park Cities Presbyterian Church, of the Presbyterian Church in America (PCA), is a multi-generational congregation of over 4,500 members who come from all over the Greater Dallas area. For 27 years they have existed to extend the transforming presence of the Kingdom of our Lord Jesus Christ in Dallas and to the world. For more information, visit http://extend.pcpc.org.
About Pritchard Associates
Pritchard Associates is a full-service project management firm, staffed by registered architects and engineers, construction experts, financing professionals, and experienced project administrators.
About AnchorPointe
As Owner's Representatives, AnchorPointe partners with churches to provide comprehensive management and coordination of all construction project activities.
About OMNIPLAN
For more than 55 years, OMNIPLAN has been known for innovative and evocative architecture and design that elegantly endures the test of time. Ninety-five design awards, including five 25-year awards are a testament to this heritage. George Harrell and E.G. Hamilton founded the firm in 1956 with a commitment to elevating the quality of their community's built environment as a core value. Today the firm is still driven by this core value as they work across the nation. With offices in Dallas and Phoenix, the firm has worked in 38 states and six foreign countries. Their practice is focused in both the commercial and institutional arenas with special emphasis in large-scale commercial retail and mixed-use developments, and facilities for institutions of higher education, especially those related to science and technology. Learn more about our projects and services at http://www.omniplan.com.