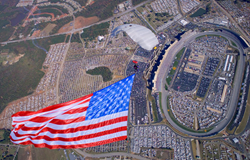 JOLIET, IL (PRWEB) June 30, 2018
Starting Saturday, June 30, 2018, at what is surely an exciting weekend for Chicago area race fans, Team Fastrax™ will perform special patriotic demonstrations at both the Overton's 300 NASCAR Xfinity Series race and Overton's 400 NASCAR Cup Series Races.
To start each race, Team Fastrax™ will pay homage to our Nation's Independence Day by skydiving in during the National Anthem with their 1,800 sq. ft. American Flag, a Chicagoland Speedway flag and a red white and blue streamer.
"We are honored to be performing our American Flag skydive to celebrate such an important day in America's history," commented John Hart, Owner of Start Skydiving, and Founder of Team Fastrax™. "The Declaration of Independence and our resulting freedoms are what truly set us apart from other countries. God Bless America."
According to the Chicagoland Speedway site, fans will also be treated live music from Infield IDOL Live Band Karaoke, A Band Called River, Josh Gallagher, Sal Gonzalez, Navy Band Great Lakes, the Army 144th Brass Band, The Hurricane Project, and Hair Band Night, as well as a Rail Jam wakeboard exhibition show.
These performances of Team Fastrax™ are dedicated to Marine Sgt. Chad D. Frokjer and Air Force Airman 1st Class Carl Jerome Ware Jr. Team Fastrax™ dedicates every performance to a local fallen hero. They may be gone, but are not forgotten.
For more information on the race, or to purchase tickets visit the Chicagoland Speedway website.
ABOUT TEAM FASTRAX™
Team Fastrax™, sponsored by SELECTiON.COM®, is the most ambitious professional skydiving team in the world. The team has a roster of more than thirty-eight active members, with a collective of more than 300,000 skydives. Team Fastrax™ has performed exhibition skydives all over the world for audiences large and small as a patriotic display or as a product promotion.
ABOUT SELECTiON.COM®
SELECTiON.COM® is a nationwide provider of criminal and pre-employment background screenings, also referred to as a Consumer Reporting Agency. Headquartered in Cincinnati, OH, SELECTiON.COM® is a veteran-owned company that has been in business since 1991 and offers more than 35 background and data collection services.