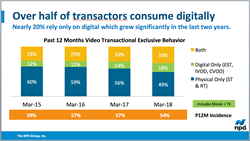 "n the lifecycle of digital-video adoption, the early-adopter phase has finally given way to the majority phase. Even so, among consumers who consume both digital and physical video content, the vast majority are still buying and renting physical discs."
PORT WASHINGTON, N.Y. (PRWEB) July 02, 2018
More than half (51 percent) of consumers who are active in buying or renting video content consume at least some digital content, which is 7 percentage points higher than last year. Among all consumers who purchased or rented digital content, 18 percent are digital-only video consumers, which is 4 percentage points higher than last year, according to global information provider The NPD Group. Among consumers who consume both physical and digital video content, 86 percent continued to purchase physical video discs in 2017.
"In the lifecycle of digital-video adoption, the early-adopter phase has finally given way to the majority phase," said Ricardo Solar, senior vice president of video entertainment for NPD. "Even so, among consumers who consume both digital and physical video content, the vast majority are still buying and renting physical discs."
Growth in digital video purchases was driven mainly by heavy users who completed more than four transactions over the previous three months. While these consumers represented just one-third of digital video purchasers, they comprised 69 percent of all transactions last year.
More than half of heavy digital video buyers purchased at Amazon and iTunes, and they over-index at Google Play and Vudu, as well. Digital video rental, or internet video-on-demand (iVOD), also grew last year, due to rental activity from both light and heavy users. Amazon was the retailer of choice for digital rentals, but heavy internet-video renters also over-indexed at iTunes, Fandango Now and Redbox On-Demand.
The research findings included in this press release come primarily from The NPD Group's latest "Entertainment Trends in America" report, which is based on a consumer survey fielded from January to February 2018. The final report is based on 8,068 completed responses from U.S. consumers age 13 and older. The data has been weighted to represent the U.S. population.
About The NPD Group, Inc.
NPD is the leading global provider of market information and business solutions covering brick-and-mortar, e-commerce, and emerging channels in more than 20 industries. We combine our unique data assets with analytic solutions to help our clients measure performance, predict trends, and improve results, advising them to help drive successful growth. Practice areas include apparel, appliances, automotive, beauty, books, consumer electronics, e-commerce, entertainment, fashion accessories, food consumption, foodservice, footwear, home, juvenile products, mobile, office supplies, retail, sports, technology, toys, travel retail, games, and watches / jewelry. For more information, visit npd.com and npdgroupblog.com. Follow us on Twitter: @npdstyle