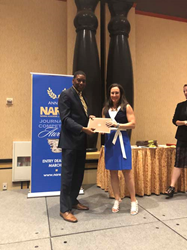 The American Dream is about to flip completely upside down as sustainability and resiliency become cost-effective and necessary. We're thrilled to be heralding the shift.
LAKE CITY, Colo. (PRWEB) July 02, 2018
Green Builder Media is incredibly proud to announce that Green Builder magazine was just deemed Best Trade Publication for the sixth year in a row by the National Association of Real Estate Editors (NAREE).
The NAREE judges celebrated Green Builder as "A cleanly designed, straightforward and easy-to-read magazine about how houses can be realistically green without breaking the bank."
Reinforcing the power of its mission-driven content, Green Builder's editor in chief, Matt Power, also received a gold award for his article, "The Promises and Pitfalls of Plastics in Construction" https://www.greenbuildermedia.com/blog/the-promise-and-pitfalls-of-plastics-in-construction which the judges called "A comprehensive look at how plastics, which are such a detriment to the environment, can be used in a constructive manner for building materials. It's not a cheerleading story for the plastics industry but instead a well-sourced, well-written story about the topic. The photos, graphics and numbers help tell the story."
"Accepting these awards from our fellow journalists at NAREE is terrific affirmation that we're doing work that resonates," says Power. "I was especially pleased about the plastics piece. It's important for the building industry to get involved with solving the plastics crisis, and soon. What's exciting about winning this award now is that we're breaking all the rules, We're taking the magazine in directions that no other b2b magazine has dared—not just reporting events, but dishing out predictions about the future and influencing the market today with our editorial as well as our market insights. The American Dream is about to flip completely upside down as sustainability and resiliency become cost-effective and necessary. We're thrilled to be heralding the shift."
The Green Builder Media editorial team is no newcomer to the awards circuit. Power alone has taken home dozens of writing and editorial awards in his long career, including a major win in 2015, with "The Celestia Project" https://www.greenbuildermedia.com/celestiaproject a nine-part series that lays out a hopeful, biophilic version of a sustainable future.
"Since 2006, we've grown our business into North America's leading media company focused on green building and sustainable living," says Green Builder Media CEO Sara Gutterman. "We have worked assiduously to be the leading edge of innovation, offering advanced editorial and pioneering ideas to our readers so that we could methodically shape a national dialogue about important sustainability topics and push the boundaries of our collective imagination."
What's next for Green Builder Media? "We'll continue to put out innovative editorial covering a broad spectrum of sustainable living topics, including Internet of Things, smart home technologies, energy efficiency, intelligent water, indoor air quality, resiliency, renewables, and clean mobility solutions," Gutterman says.
As for Power, he's turning his sights to influencing building codes to encourage more innovative types of housing and development. "It's time to figure out how to live more efficiently. For example, we need codes that make small-footprint houses an acceptable option on any parcel."
Read past issues (including the winning ones) of Green Builder magazine at https://www.greenbuildermedia.com/magazine.