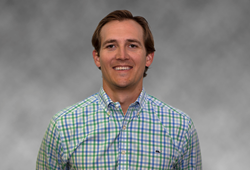 Matt's experience, perspective, and business acumen will be essential as we position Ramtech for growth in new markets by expanding our product offerings and developing strategic partnerships
MANSFIELD, Texas (PRWEB) July 02, 2018
Mansfield, Texas-based Ramtech Building Systems, the Southwest's premier design-build construction firm for relocatable modular buildings and permanent modular construction construction, has announced that Matthew Slataper has joined the company in the role of Vice President. Mr. Slataper comes to Ramtech from the Houston area where he served as a Vice President in J.P. Morgan's Investment Banking division. In his new role at Ramtech, he will bring his experience to all areas of Ramtech's operations with a particular focus on business development. Slataper joins Ramtech at a pivotal time for the company as it seeks to grow both its pier and beam and flagship slab-on-grade permanent modular construction approaches. "We are delighted to welcome Matt to the Ramtech team," said Linc Moss, Ramtech's president. "His experience, perspective, and business acumen will be essential as we position the company for growth in new markets by expanding our product offerings and developing strategic partnerships."
Mr. Slataper has spent the last 12 years in finance, most recently focused on mergers and acquisitions and capital markets advisory within the oil and gas sector. He has an MBA from the University of Chicago's Booth School of Business and a BBA from Southern Methodist University. He and his wife Tiffany have two children and plan to relocate from Houston to the west side of the Dallas-Fort Worth Metroplex.
About Ramtech Building Systems
Since 1982 Ramtech Building Systems has been providing innovative relocatable and permanent modular buildings for educational institutions, government agencies, healthcare providers, and Fortune 500 companies throughout the Southern United States. As a design-build construction company, Ramtech offers full in-house design, a manufacturer direct product, and complete site construction services all within a single-source solution. Ramtech's innovative Slab-on-Grade Permanent Modular Construction process combines the best of off-site prefabrication and on-site construction techniques in order to produce a building faster and with less cost, but identical in the look, functionality and life expectancy of a completely site-built structure. Ramtech accomplishes this by setting factory assembled modular sections complete with attached ceilings and walls - but no floors - directly onto a conventional concrete slab foundation. This allows the concrete slab to become the floor of the structure just like a site-built building. For more information, visit the company's website at RamtechModular.com.