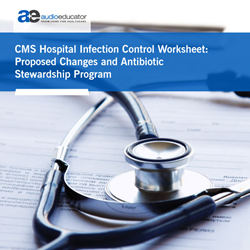 The 49-page Hospital Infection Control Worksheet that surveyors are now using contains a lot of surprises – and one cannot rely on the Centers for Medicare & Medicaid Services' (CMS') infection control standards to get prepared for it.
DURHAM, N.C. (PRWEB) July 03, 2018
AudioEducator, a division of audio conference and corporate education leader ProEdTech, will host the live webinar "CMS Hospital Infection Control Worksheet: Proposed Changes and Antibiotic Stewardship Program" with industry veteran Sue Dill Calloway, RN, MSN, JD on Tuesday, July 10, 2018 at 1:00 PM ET.
The 49-page Hospital Infection Control Worksheet that surveyors are now using contains a lot of surprises – and one cannot rely on the Centers for Medicare & Medicaid Services' (CMS') infection control standards to get prepared for it. That's because the standards don't contain all the items in the worksheet, which surveyors are now using for all validation and certification surveys.
Moreover, there is a business case for stepping up enforcement to prevent healthcare associated infections. The Hospital-Acquired Condition (HAC) Reduction Program is in effect for 2018. As part of the Patient Protection and Affordable Care Act, hospitals that rank in the quartile of hospitals with the highest total HAC scores will have had their CMS payments reduced by 1%.
In this webinar, regulatory compliance expert Sue Dill Calloway, RN, MSN, JD will be discussing all items on the Hospital Infection Control Worksheet, as well as the proposed changes to the infection control standards, which include the requirement for hospitals to have an Antibiotic Stewardship Program and appoint an "Infection Preventionist."
The webinar will provide insights on what CMS requires for safe injection practices and sharps safety, as well as cleaning endoscopes, glucose meters, and reusable equipment. There will also be discussion about the Centers for Disease Control and Prevention's (CDC's) vaccine storage and handling toolkit, and the CDC procedures for cleaning and disinfecting reusable medical devices.
The session will help infection control professionals and other related healthcare professionals to learn about:

The many proposed changes in 2018, including the Antibiotic Stewardship Program, qualifying an Infection Preventionist, and much more
Infection control program, resources, and required policies
What nationally recognized standards influence the Infection Control Worksheet, such as the CDC vaccine storage and handling memo
ISMP IV Push guidelines that you need to know to survive a survey
The training program you need to have in place and how it must include identified problems
What systems you need to introduce to prevent multi-drug resistant organisms (MDRO) and correct antibiotic usage/stewardship
New tracers on hospital acquired infections (HAI), plus a process to identify present on admission (POA)
Reprocessing non critical items
Infection control in the Operating Room
Hydrotherapy equipment
Infection control tool
Infection control questions to ask
Questions for employee health nurse in worksheet three
Questions for director of education in worksheet one
For more information and to register, visit: https://www.audioeducator.com/hospitals-and-health-systems/cms-hospital-infection-control-worksheet-proposed-changes.html
Get $40 off on our conferences and webinars. Use Code PRWEB40 on checkout (applicable for all purchases).
About ProEdTech
ProEdTech is a leading source of knowledge and training for professionals in over 15 industries, serving individuals, businesses and their employees around the globe. It offers webinars, online conferences, seminars, boot camps, books, DVDs, white papers, industry reports and other learning tools from industry experts and insiders who provide a fresh perspective on key issues, trends and regulations in order to simplify governance, risk and compliance (GRC) for enterprises and industry professionals.
ProEdTech's AudioEducator webinars offer updates, regulatory knowledge and information on the latest news in various medical specialties, as well as coding and billing updates, and analysis of regulations that affect ambulatory surgical centers, home health, long term care and hospice facilities, hospitals and healthcare systems, health insurers and physician practices. Webinars are also offered through AudioSolutionz in the technology, human resources, construction and housing, ICT and telecom, manufacturing, consumer packaged goods and retail, safety and security, transportation, energy and environment, education, trade, and chemicals industries. ProEdTech's Eli Financial platform offers tax and banking professionals, focusing on providing high-quality online training products customized for U.S. lenders and tax practitioners that include the latest updates from the IRS, CFPB and other regulatory authorities. ProEdTech regularly provides professionals the opportunity to get answers to their most complex questions directly from experts, without having to attend costly live conferences. To learn more, visit: https://proedtech.com/.