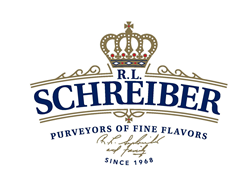 Our Heritage is Rooted in a Labor of Love
FT. LAUDERDALE, Fla. (PRWEB) July 09, 2018
R.L. Schreiber, Inc., a leading food manufacturer crafting over 1,000 premium flavor products, welcomes its 50th Anniversary milestone. R.L. Schreiber is a family owned and operated company that is proudly three generations strong. The company has enjoyed sustained success in the foodservice industry as the premier Purveyors of Fine Flavors. As a national brand, R.L. Schreiber is renowned for passionately crafted and personally delivered flavor offerings. The company's expansive products line includes food & soup bases, herbs & spices, instant concentrated stocks, and seasoning blends.
Our heritage is rooted in a labor of love.
R.L. Schreiber is an American success story that began with one man – our original Purveyor, Raymond Leo Schreiber. Raymond moved his family to Southeast Florida in 1968 with a vision. As a natural born salesman and entrepreneur, he dreamed of starting his own food base company. Pretty soon, R.L. Schreiber, Inc. was born. The business flourished with Raymond's persuasive personality, premium quality products, and passionate customer service. Raymond established an independent purveyor network to provide personalized customer service and delivery. This set the company apart then, and still does today.
Tom Schreiber Sr., R.L. Schreiber Chairman of the Board, recalls, "When my father, Raymond, founded our company 50 years ago, it was truly a labor of love. He started with his favorite food and soup base recipes that he prepared each morning. In the afternoons, he would personally deliver his homemade food & soup bases to local restaurants and foodservice establishments. The business steadily grew until he decided to engage several people to become independent purveyors. It was the beginning of R.L. Schreiber's unique distribution model that emphasized passionately crafted flavor offerings, with personalized service."
CEO Ronald Frump says proudly, "Both the second and third generations are involved in the family business. So this is also a tribute to Raymond Schreiber, who had the vision and saw the opportunity to create this company here in South Florida." "Over the past 50 years, R.L. Schreiber Inc. has been built into a national company that provides products to virtually every state in the country," he adds. "As we look ahead, we're excited about continuing the legacy and success of our founder."
Quality assurance is our top priority.
R.L. Schreiber takes quality assurance and control very seriously. Its state-of-the-art facility in Lebanon, KY has a laboratory for the quality team. "Supply chain is critical to any company and it certainly is to us," Frump says. "Our attention to high quality, consistent ingredients and the adherence to our food safety plan requirements demand that we build relationships with suppliers that can consistently provide the products and service we expect." "Most of our products come from international markets," Frump adds. "That's why we maintain rigorous standards for quality checks and testing to ensure that every raw material that comes into our plant meets or exceeds our expectations." The company invested in technology to enhance its testing "to get reliable quality results faster," Frump explains.
Frump believes the company will continue to be successful with its supportive leadership. "I'm most proud of the management team that we have built," he says. "As long as we are working together and getting contributions from everyone in our organization, we will achieve our goals. It all starts with a team. You have to build a team, create a vision and develop a strategy that can drive the changes and performance to achieve our goals."
In 2011, R.L. Schreiber moved its spice manufacturing to its 125,000 square foot state-of-the-art facility in Lebanon, KY. Its food base manufacturing moved four years later. As part of the move, the company created a training center for its employees and independent purveyors. "We conduct training sessions at our plant monthly," Frump says. It has been a great asset for brand training and team building.
Attention to detail and food safety are keys to our success.
R.L. Schreiber has experienced double digit sales growth in the past two years. The company also tripled its sales force to accommodate its growing independent purveyor network. Frump attributes the company's success to its high quality products and superior customer service. "We've been successful because of our attention to detail and focus on food safety," he says. "All of that circles back to our ability to customize products to meet customer demands. It's also a nod to our independent purveyors who take our products directly to the foodservice operators we serve across the country. What sets us apart from our competition is the quality and personalized service that our independent purveyor network provides." "The company has made investments in new programs that drive performance and attract first-class talent," Frump adds. "When hiring, we look for several characteristics including integrity, service, unity, and commitment to quality." "It's truly a family business across the board," he says. The company has 130 employees and over 100 purveyors in its independent purveyor network.
While honoring its roots, R.L. Schreiber spread its wings. After decades at its Pompano Beach, FL headquarters, the company purchased a new corporate office building in Ft. Lauderdale. The new space will accommodate the needs of the company's growing corporate staff. It also features smart technology conference room facilities and a large corporate training room. The timing of the move coincides with the company's 50th Anniversary, making it that much more special. The new corporate headquarters is located at 2745 W. Cypress Creek Road in Ft. Lauderdale, FL.
About R.L. Schreiber Inc.
R.L. Schreiber, Inc. manufactures and distributes over 1,000 premium flavor items for the food service industry. Its extensive product line includes food & soup flavor bases, herbs & spices, seasoning blends, instant concentrated stocks, and custom blends. The company passionately crafts premium batches of its superb culinary products. The products are personally delivered to customers by over 100 R.L. Schreiber independent purveyors nationwide.The Purveyor/Chef relationships are highly revered by customers. Purveyors provide regular visits with personalized service, express delivery, flavor advice, free product sampling, and inventory management. We break cases so there's never a minimum order required.
R.L. Schreiber continues the legacy as the premier Purveyors of Fine Flavors. In doing so, superlative quality is paramount in everything the company does. The highest standards of excellence apply to its product quality, food safety programs, innovative R&D, continuous operational improvement, and dedicated customer service. This level of commitment is the reason its customers have remained loyal for 50 years.
R.L. Schreiber is the proud title sponsor of the American Culinary Federation (ACF) Student Team Award and Competition. R.L. Schreiber has had a long standing relationship with the ACF. The ACF is the largest professional chefs' organization in North America with over 22,000 members in 230 chapters across the United States.
For more information on our company's history, products, recipes, promotions or to discover the R.L. Schreiber Advantage please visit http://www.RLSchreiber.com. For information contact:
Media Relations:
Jason Massengale (800-624-8777) or jason@rlsinc.com